If you've been around this blog for any length of time, you probably know that I consider roast chicken one of the most cozy of foods. Maybe it is the suppressed childhood memory of chickens roasting in French shops. Perhaps it is the memory of my mom roasting them for soups, chicken pot pies, or whole for dinner. Perhaps it matters not one bit why I find roast chicken so cozy ... just that I do.
I found the idea for this recipe through Bon Appetit. There's likely not a recipe from that magazine that I've disliked although there have been several that I've tweaked. Their version calls for roasting the carrots with honey, but I chose to let the carrots' natural sweetness do the trick. I tossed them with a little olive oil, Celtic sea salt, and sliced almonds, then roasted them till they were tender.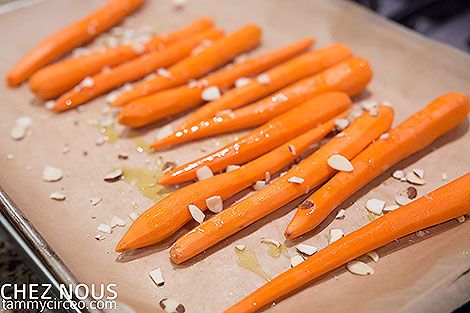 Using a cast iron skillet large enough to accomodate four chicken breasts, I seared them and put them in the oven on the rack below the carrots so they could finish cooking. It doesn't take nearly as long to cook chicken properly as is commonly thought. If you take it out of the oven when you think it is perfect, it won't be good by the time it gets to the table ... it will be overcooked and probably dry and chalky. Be brave and take it out just before you think it's done.
Bon Appetit suggested marjoram as the herb in this dish, but I was an Autumn state of mind grown over with sage so that's what I went with. I think marjoram, tarragon, thyme or even oregano would be lovely. 
After taking the chicken out of the oven, I put it on a platter and in the skillet, I sauteed some shallots. Then I added the roasted carrots and almonds so they could enjoy the party, then finished off with the sage.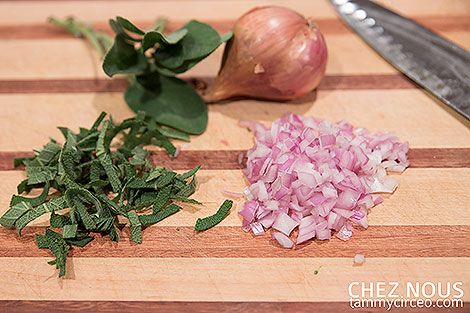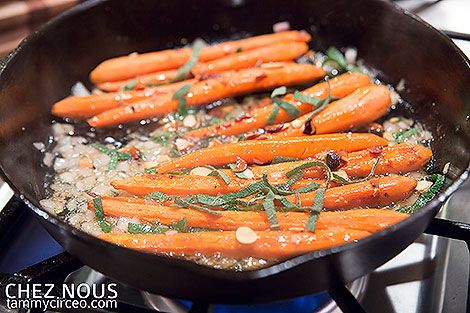 Bon Appetit also suggested a lemon yogurt sauce to accompany and although I mixed it up and put it on the table, I didn't want it at all. The pan juices and the carrots were plenty to flavor my dinner. Next time, I might grate some lemon zest over the top, though.
That was a dish that took about 45 minutes from start to finish ... totally doable on a weeknight, but even more so on a weekend. Completely worth the time and effort. And if you make it on a weekend, go ahead and double it because you know that it would be so fabulous to have those leftovers waiting for you after a tough Monday, right? You could reheat plates in the microwave, of course, but you could also cut the chicken and carrots into smaller pieces, put them in a pot with some chicken broth, and rice or small-shaped pasta, and add frozen peas just before serving for a wonderful soup that would probably yield its own leftovers.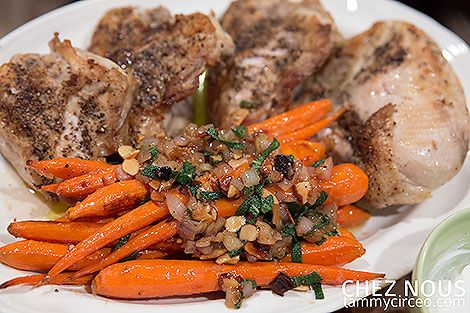 Bon Appétit!