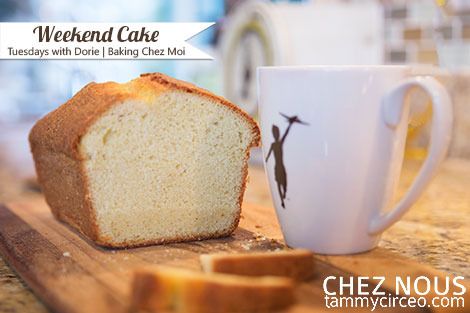 I love Dorie's innovative ways and creative titles. This "weekend cake", as the French would term it, is a pound cake. Growing up with the fragrance of Mom's pound cake baking while I fell asleep makes me an expert. Such a comforting sensory lullaby.
The recipe doesn't call for a pound of butter, or a pound of sugar, ... not a pound of anything. And Dorie creates a more complex flavor by browning the butter, using the vanilla bean seeds and rubbing them into the sugar, and adding rum to the batter. So much brilliance. In addition, it is easily mixed in a bowl with a whisk. No mixer needed.
This is a simple cake similar to what our grandmothers would've made on a weekday afternoon to share with their neighbors accompanied by tea or coffee. It'll last several days if grubby paws are kept to a minimum and if the cake is wrapped tightly. Otherwise, it will only last for afternoon tea.
According to the rules of the group, Tuesdays with Dorie Bakers are not allowed to post the actual recipe ... mes regrets. However, you'll not have an ounce of disappointment if you purchase your own book and bake along with us. You can find it HERE!