The saying, "You learn something new every day" rings most true for me as I continue cooking through Dorie's book, Around My French Table. I had never heard of storzapretis so of course, I didn't know that they originated in Corsica. That's two things I learned.
And for some reason, I totally thought that Corsica was part of Italy. My newly brunette self was feeling a little blond until I asked my husband-who-rarely-loses-at-Trivial-Pursuit if he thought Corsica was French or Italian and he said he thought it was Italian. It does float out there in the Mediterranean not connected to either Italy OR France so I feel justified in this lack of knowledge! So we were both wrong and I learned a third thing in one day's time. Boom!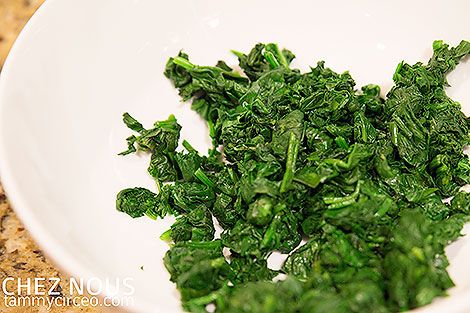 Storzapretis are ricotta gnocchi with spinach rather than potato gnocchi. I wanted to make my own ricotta cheese because manufacturers insist on including ingredients that I'd rather not ingest, but ran out of time so I bought a whole milk organic version with no added ingredients. The ricotta is mixed with the fresh, steamed and squeezed spinach, an egg, some Emmenthal or Gruyere (Swiss cheese), marjoram or mint, and a little flour.
The dough is soft and rather than rolling the gnocchi on a floured board as you would when making potato gnocchi, it's best to use two spoons to make quenelles from the dough, then lightly flour them before putting them on a lined baking sheet in the freezer for about 30 minutes.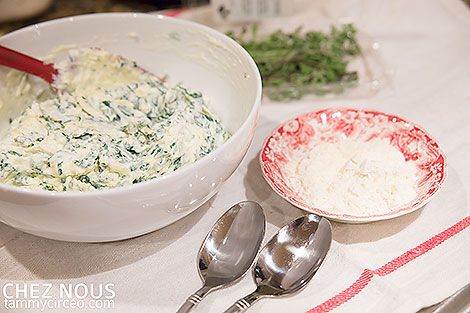 To make a quenelle, you scoop dough into one spoon, then using another spoon, transfer the dough back and forth between the spoons following the contour of the spoons and rounding each side as you transfer it. The dough for the storzapretis is soft so shaping them perfectly each time is a challenge!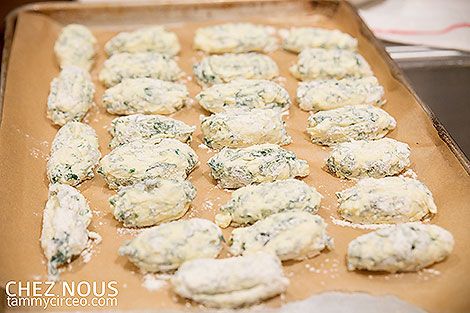 When they are pulled from the freezer, they are cooked in boiling salt water till they float, then put in a baking dish, covered with tomato sauce (or marinara), topped with the rest of the grated cheese, and baked till bubbly.
I think it would be lovely to bake three or four of them in small cast-iron skillets or porcelain baking dishes as a first course for a dinner party. It was just Ken and me for dinner so I made them in a casserole dish and served Roasted Artichoke and Garlic Sausages along side. Super delicioius and plenty for lunch leftovers.
Bon Appétit!
(If you're new around here or are wondering what French Fridays with Dorie is ... It's an effort to use one of Dorie's recipes from her cookbook Around My French Table each week. The recipes are decided on by popular vote on the website French Fridays with Dorie. Purchase your book HERE and play along! According to the rules of the group, I'm not allowed to post the actual recipe ... mes regrets.