Goldie, our dog, loves to lay outside in the snow. I think it helps numb the pain in her bum leg. She was laying beside the patio and I was sitting at the table in the kitchen. I saw her perk up and then jump up and hobble (rather quickly for a cripple!) over the the far fence. She was really curious about something. A few seconds later, I saw this bird ...
... hopping across the yard in a bit of an urgent manner. (Are winter birds usually this fat?) I wondered why Goldie wasn't chasing it and why it wasn't flying. Then I noticed that it seemed to be missing tail feathers. It went around the other side of the house and we brought Goldie inside. Ken went to find the bird, but couldn't. A few minutes later, Aly casually said, "There's a bird on the porch." To which Emily exclaimed, "MOM! The bird is on the porch!!" Emily immediately went into "Nurse Emily" mode and wondered what we could do to help it.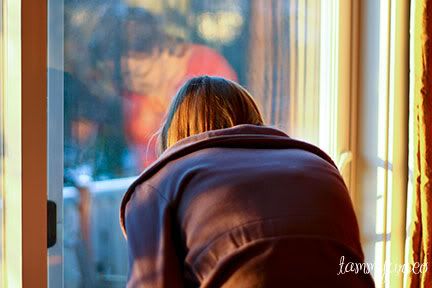 A phone call to a friend suggested that we try to make it warm so Homemaker Aly built it a nest out of an old towel.
After it was surmised that Nurse Emily and Homemaker Aly had done all they could, Chef Emily got busy making bread crumbs.
"At least, it will die with a full tummy."
The bread crumbs are still on the ground and the nest is empty ... We have a bird mystery on our hands!