I already mentioned how the weekend was all about Aly and her Sweet 16th birthday. She had requested a salmon dinner and I think she did it just so she could suggest that we go to Pike Place to get the fish ... because you know, there's no where near our house that sells salmon. :P Truth is, she and I both love to go to the Market and jump at almost every chance to do so. Our first stop was at Le Panier where we got a baguette for dinner, macarons for Emily (it's just about the only thing in a French bakery that she can eat), and a pain au chocolat to share later. I asked what she wanted for lunch and without hesitation, she said, "A Uli's brat."
The Market wasn't very crowded since it was a record 23 degrees out, but Uli's dining room was full. We shared a table with two interesting guys who couldn't believe that Aly didn't know her astrology sign. She said, "I think it's something with a fish?" The one guy said, "You've got to be kidding me!" We both laughed. While we waited for our food, Uli came in. He sat down and talked to us for about 20 minutes ... about good ingredients making good food, about how he developed his recipes, about his recent motorcycle accident and consequent broken ribs, about his kids, about his time in Taiwan, about doing what you love ... Very nice man. We had met him when we first arrived here almost 11 years ago and Aly had been in a bad mood when they posed for a photo. She asked him if he was willing to let us make it up. And he was. :)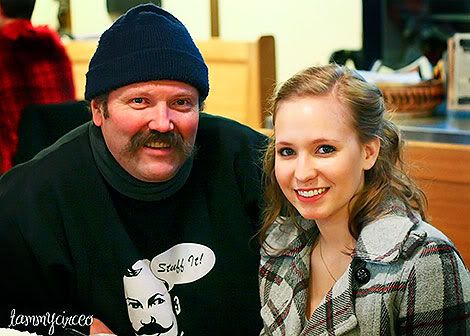 (His shirt is appropriate for a sausage maker ... don't you love it?!)
We walked through parts of the Market that Aly hadn't seen before and ended up across from the Seattle Art Museum (SAM). Of course, we had to walk over to the shop and browse and take more photos.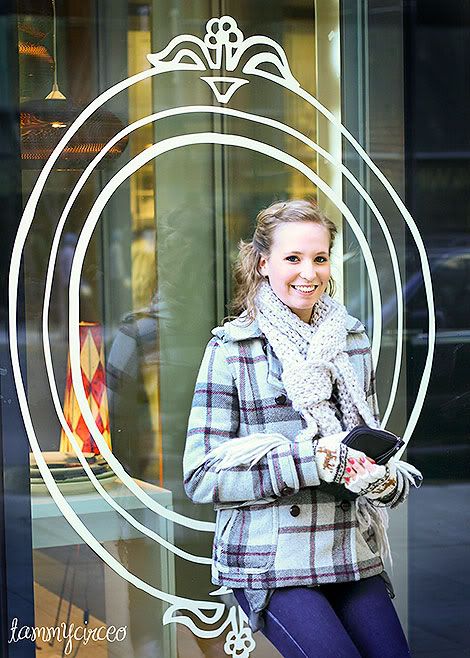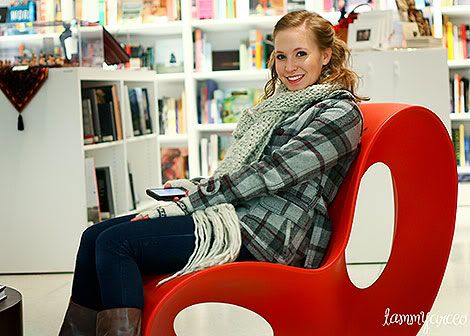 We walked back up to the main part of the Market, ordered coffee at the Daily Dozen and got donuts to take home to Ben, then we shared the pain au chocolat while overlooking Elliott Bay. Then it was time to order the fish and watch it fly ... over our heads! ... to our fishmonger to filet. We walked around a bit more carrying that heavy fish and other vegetables, walked around Watson Kennedy (one of our favorite browsing shops), then stumbled upon Baby & Co. The owner is wonderful, telling us how she travels back to Paris and comparing French culture to our own, and saying, "Enchante" as she learned our names then bid us farewell. Lovely person.
On our way out of the city, on Mercer, by McCaw Hall, we spied this giant "A" and I said, "We have to go around the block and take your picture!" There were no parking places, but we parked illegally, hoping the police officer that had just passed hadn't noticed.
Simply fabulous afternoon and dinner was wonderful. Aly's Individual Molten Chocolate Cake was the only one that held its shape! The lights were off and my ISO was cranked up, so this photo is super grainy!
And the party isn't over yet ... next weekend, we'll have some of Aly's friends around for more partying! Birthdays SHOULD last longer than one day, don't you think?! Because being alive is worth celebrating!!

I've usually watched snippets of the Academy Awards, but this year, I watched it from beginning to end. I do like Anne Hathaway and thought she looked amazing and did a fine job of co-hosting with James Franco, who, in my opinion, often appeared less than interested in being there! I'm not sure if I enjoyed the ceremony that much or if I just enjoyed sitting still and paying attention to ONE thing for that period of time! I loved seeing Billy Crystal ... LOVE him. However, my favorite part was when Tom Hooper gave his mom credit for suggesting that his next movie be "The King's Speech". It won four Oscars prompting him to say, "The moral of this story is 'Listen to your mom'." It made moms everywhere love him!
And here we are at the beginning of another week with long lists of things to accomplish and hoping that in the midst of all that accomplishing we find time to listen to each other, relax just a bit, and realize that although life isn't always easy, it is always worth it.