As with the last couple of weeks, I did not make the recipe for French Fridays. In between making softer foods for Emily and the busyness of the week (even with two kids gone!), I decided to let myself off the hook.
However, I have made this steak before and can vouch for its absolute perfection. I love the crunch of the peppercorns and the simplicity of the sauce. I especially like it because it is reminiscent of the pepper steak Ken and I had on one of our first dates ... my 16th birthday, to be exact. It seems most "pepper" steaks include grilled bell peppers, but we both agree that the best pepper steak is one encrusted with cracked peppercorns.
In my opinion, there's nothing much better than sitting at a sidewalk table in Paris and cutting into a perfectly cooked steak accompanied by a simple sauce and a side of frites. It is simply delicious. But if you don't live in Paris or aren't visiting, you can still create a lovely dinner that will remind you of eating well in the City of Lights. Be sure to get a superb cut of meat (filet mignon, NY Strip, or Ribeye would be my choices) and for the love of good cuisine, don't overcook it!
If the weather is nice enough, sit outdoors to eat as the sun is setting . Put the umbrella up over the picinic table, light some candles, string some white lights, play some music, have some wine, and dream.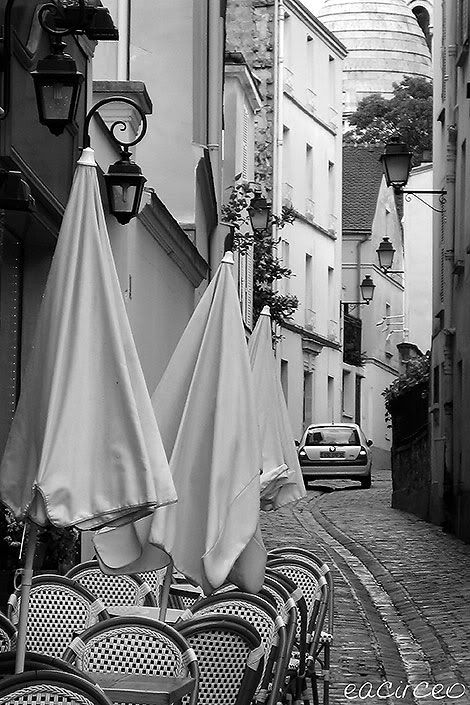 (If you're new around here or are wondering what French Fridays with Dorie is ... It's an effort to use one of Dorie's recipes from Around My French Table each week. The recipes are decided on by popular vote on the website French Fridays with Dorie. Purchase your book HERE and play along! According to the rules of the group, I'm not allowed to post the recipe...so sorry.)