[Welcome to Erin, my sister-in-law! She is such a blessing to me and I love the memories she brought back as she wrote this post. Incidentally, she chose to write all about MOI in this one and I'm a little uncomfortable posting it, truth be told. However, I told her she could write whatever she wanted ... so she did. :P]
Throughout my life I was blessed by having my extended family live nearby. My sister and I would walk around the corner to my grandparents' house, see my aunts, uncles and cousins at holidays and family reunions, and we knew we would always have their support at life's big moments. I couldn't imagine what it would be like to not have family around. I also couldn't imagine how you could be so close to family that you don't get to regularly see. All that changed however when I married my husband, Tom, and I got a big sister in the deal. From the moment Tammy met me, she made me feel like part of the family and I am so grateful to her for that. When she asked me to be her guest blogger for this week, I jumped at the chance to share about our relationship.
We are just a few years apart…..ok, 13 but who is counting!?  I was always the oldest child in my family growing up. I am the oldest daughter, the first grandchild and the first of the kids in my family and of my close friends, to become a mother. That doesn't really leave me with a lot of people to look up to or to pave the path ahead of me when it comes to being a mom, wife and homemaker. Once I went to Tammy's house, I realized I had found that person in her.  Even though I was a green 22 year old, she treated me like an adult and taught me countless things about organizing a home, parenting, cooking and how to put up with her feisty brother! We got to see each other about every three months during the time my husband worked for the airlines. We could fly for free, so we would try to go up as often as we could. We didn't do anything extraordinary, and that was the best part. I helped her paint her house, go grocery shopping, cheer on Ben at baseball games in the pouring rain ... basically we lived life, together. Some of my fondest memories include escaping without the kids to go antique shopping, scrapbooking at the dining room table with our tasty Apricot Ales, and strawberry picking [all 37 pounds worth….ok so we got a little carried away.]
We would talk about how wonderful it would be to live near each other. She would say how awesome it would be if I moved to the Northwest and I would politely tell her, "Over my dead body would this desert-born girl ever survive a year in this Northwest weather." And then I would suggest she move to California, to which she would politely reply, "Over my dead body am I yanking my teenage children out of their schools and activities!" And so we remain 1,900 miles apart! Even though there are so many miles between us, we have managed to support one another through a few milestones. We had a blast working along side each other at Emily's High School graduation, she and Ken were here to support Tom in his Masters Degree graduation and we all cheered Ben on to his Little League 11 year old State Championship. We have also spent an Easter and three Christmas holidays together, although we wish it was so many more. As I was looking through countless pictures of these times we all spent together, I realized we don't have that many of just the two of us. Typical of moms, we are always on the other side of the camera. Between the two of us, we managed to find a few!
We enjoyed having Tammy, Ben and Aly down for Easter in 2008.
Tammy and I also managed to steal away to SouthCoast Spa in the vineyards of Temecula Wine country. It was a beautiful day and we enjoyed the opportunity for some much needed girl time.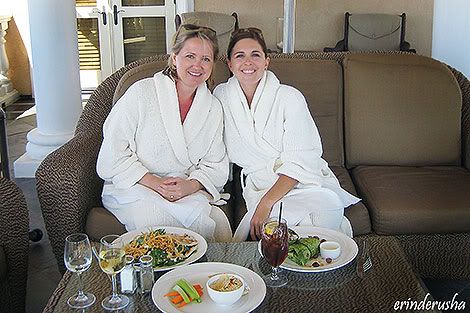 Christmas 2008 was especially memorable. We went up to spend more time than company should during the great snowstorm that winter. Ken and Tammy made us feel right at home. I must pause here to interject how much my husband and I respect the relationship these two have and the effect it has had on our lives.
Ken said it best when he said that there are few people in his "circle." Those in it are the family members he values and wants to share life with. Tom, myself, and our kids happen to be in this coveted circle, and we are better for it!
We also spent countless hours in Tammy's kitchen….one of the places my dear sis is the happiest.
Because she knew this would be a Christmas that I would be forgoing time with my own side of the family, she made sure we made all of the recipes that mean "Christmas" to me. We had so much fun and most nights cooking these amazing Italian dishes became a family affair. I appreciate sweet Emily for letting me join them in the "dance" they do in the kitchen. Those two have it down to a science and I hope to share many memories with my own kids in the kitchen like Tammy does with hers. Yet another valuable thing she has taught me.
We also found time to finally have an adult night out. The four of us spent a wonderful evening full of delicious wine and great conversation.
Here we are at Chateau St. Michele's Winery
One of our favorite times together was our first, and most assuredly not last, vacations together. The four of us went on a cruise to Catalina Island and Ensenada, Mexico. We celebrated Tom's MBA graduation and had a wonderful time together.
Here we are on the pool deck where I took the time to remind her yet again, that she could have this weather 200+ days a year if she would just move to California already! 
These days we don't get to see each other as often and we would like. Over the years, our communication hasn't wavered, just changed a bit. We now text more then we talk and we do more "scrapping" digitally then we do on paper…and it's no longer across the table from one another. We are grateful for technology as it has allowed us to collaborate all these miles apart. Usually when we come up with something, it is 80% her talent and 20% my creativity…. I am honored that she comes to me for ideas and is willing to take time out of her day to make my little ideas blossom into reality. I am so proud of her in all of her photography and digital endeavors. I was a charter member of Tammy's blog and I love watching how her talent has grown over the years…and no she didn't make me guest blogger so I would say that! I am proud of her for taking what she loves and not only documenting it, but having a heart that wants others to learn and grow like she has.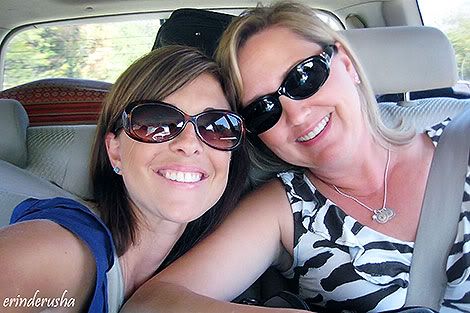 I am a better mother, sister, wife, friend, cook, digital scrapper, organizer, creator, and woman because of Tammy Elaine Circeo and for those of you who are friends, family, or just know her through this blog, I bet you are better people too.
I am beyond bummed that I am not there to share this milestone week with her and to hug her when it all is just a bit too much for a good mama to handle. So to those of you that see her over the course of this week, as her sweet Benjamin graduates, hug my sister for me.

Catalina Island on Dwellable