I've missed quite a few recent French Fridays with Dorie. My most recent design class took quite a bit of my time and concentration and my "Kitchen Therapy" time has suffered. Not to mention that in the middle of that class, I started another photography class! I've just finished the last project for the design class and hope to move into a more reasonable schedule.
This week's recipe was for deconstructed BLTs (bacon, lettuce, tomato sandwishes) with Eggs. To be rather truthful, when I see "deconstructed" in the title of a recipe, I feel the need to help the writer get their nose out of the air ... construction equipment might sometimes be required! It's as though they think to themselves, "If it's good all mixed or stacked together, it must CERTAINLY be better in individual components!" Ummm ... not usually. The reason it was mixed or stacked originally is because it is fabulous that way and not in need of change.
However, we're talking about Dorie here ... and the fact is that she is simply relaying a recipe to us that she had experienced so I would never call in the "big guns" for this.
The recipe called for arugula as the green, topped with chopped sun-dried tomatoes and tossed with vinaigrette. Then fresh cherry tomatoes were coated with a bit of the same vinaigrette and layered on the greens along with crispy bacon bits ("lardons" en francais), and homemade croutons. The crowning touch was halved boiled eggs garnished with a small bit of mayonnaise each.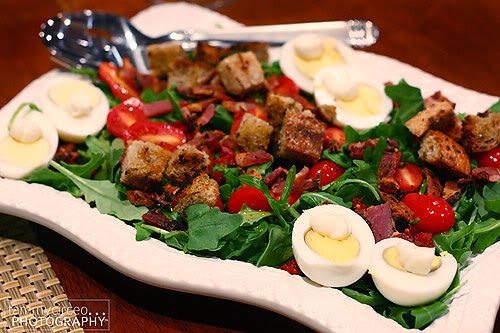 Truthfully, these components that are often found in a BLT sandwich were very comfortable being in close enough proximity to each other to lend flavor to each other without the need of everything being tasted in one bite. The vinaigrette lent a nice tang that is missing in a BLT ... makes me think I might add some to my next sandwich. The sun-dried tomatoes were fabulous, adding a bit of smoky, sweet juxaposition: a taste surprise! And the eggs ... well, I'm not a big fan of eggs, but I don't mind them in a salad occasionally.
Come to think of it, this salad is very much an "elevated" Cobb salad.
(Yeah, and I don't like the word "elevated" in titles of recipes, either.)
If you're new around here or are wondering what French Fridays with Dorie is ... It's an effort to use one of Dorie's recipes from her cookbook Around My French Table each week. The recipes are decided on by popular vote on the website French Fridays with Dorie. Purchase your book HERE and play along! According to the rules of the group, I'm not allowed to post the recipe...so sorry.)