One day last week, I was texting with Emily in the afternoon just before I left to pick up Aly from school. I wasn't feeling well so it was a rare afternoon that I had the TV on just after lunch. Tyler Florence's show was on and I was smitten with the number of copper pots he had in his kitchen. Emily and I talked about it and she told me to stop coveting those $250 pots!
Ok. Fine. I will, but it won't stop me from going by the thrift store on the way to pick Aly up ... just to see what they have. I'm sure they don't have any copper pots. I'm sure they don't. I'm really not even looking for one.
But ... you never know what you'll find when you browse through a thrift store. You might not find single treasure or you might just luck upon something sweet ... like a copper pot. For $3.50.
There sitting on a nondescript shelf was an ugly copper pot. Most of its outside was tarnished and stained ...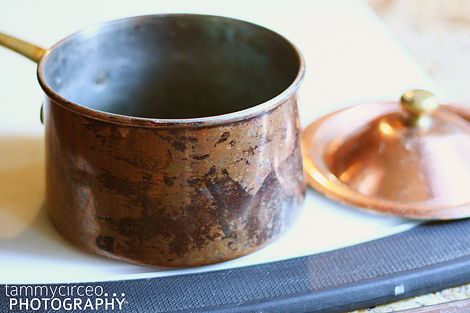 And the inside was scarred from years of scraping and showed it's copper patina ...
This was no huge challenge for me, though. I know that there are some great copper polishes available and even better, a homemade cleaner of an acid and salt does fabulous things for copper. Think: vinegar and salt, lemon juice and salt ...
I had just made a French lemon tart so I had numerous halves of lemons that I had juiced. I cut the halves in half, salted them, then turned them pulp-side down on the copper. It was easy to hold and the result was astounding!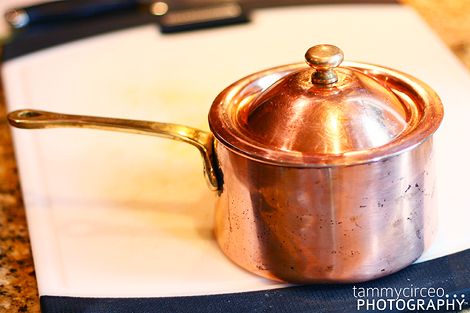 I did the same on the inside, only I cut the lemon peels into fourths so that they fit into the corner of the pot better. The acid worked away at the tarnish and the salt served as an abrasive.
I had a hard time cleaning the area where the handle attached to the pot. Ken helped later, but it still has a black outline. I can't say that I mind that, though ... It kind of adds to the character of the pot, no?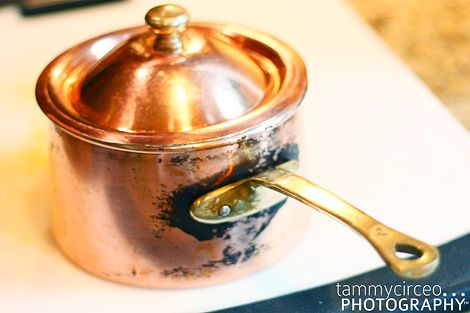 She's a sweet little beauty that will serve my cuisine well for many years, I'm sure. And for $3.50, I'm a happy cook!