"So what do you want to do?"
"I don't know. What do you have in mind?"
"Restaurant in Seattle?"
"Perfect."
Ben and I weren't even that hungry, we just knew we had to make ourselves scarce with Tammy hosting Emily's bridal shower at the house.
Ben is 19, good-looking, and athletic. So it stands to reason that his circle of female friends is wide and varied.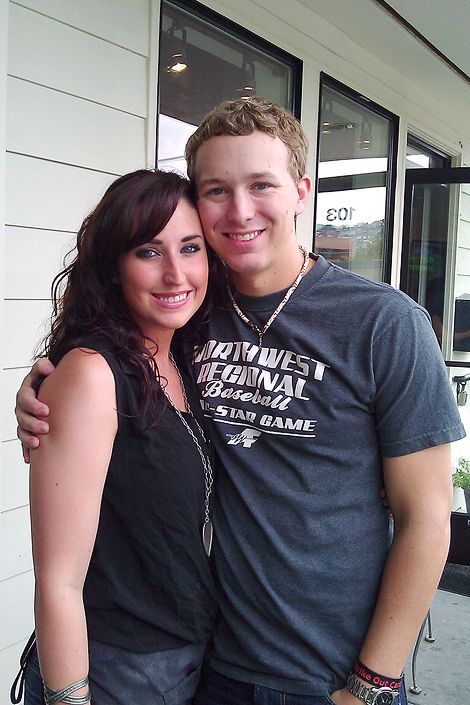 "Friend of mine, Kim, is working at a place called Queen Margherita."
"Bar?"
"Pizza joint."
"Let's go."
Queen Margherita is in Magnolia, an upscale neighborhood overlooking the sound and connected to Seattle by a single bridge. You don't pass through Magnolia. You go there for a purpose, you enjoy the view, and then you go home. However, despite its ritzy zip code, the setting of Queen Margherita is not impressive. Very small, off the street, adjacent to a pet store. Please.
We drove up at 3pm, between the lunch and dinner crowds. The place was empty so we had Kim's full attention.  
"Pick a table," she said. "Inside or out."
We chose out.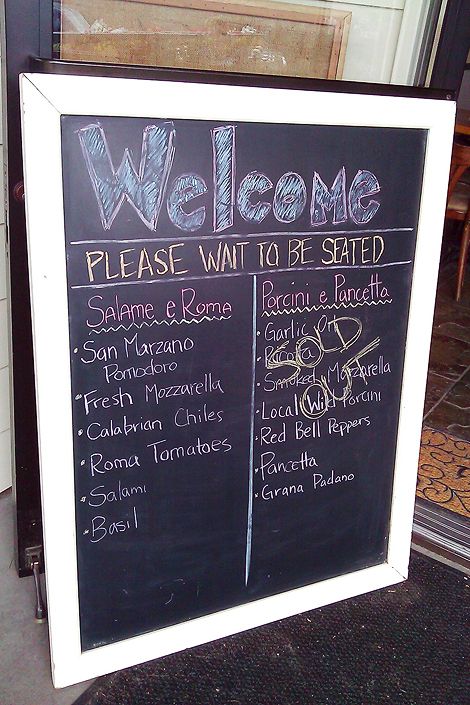 Like most good Seattle restaurants, Queen Margherita is full of character. From the burlap seat covers to the real Mexican Coke to the statue of Jesus atop the pizza oven, it just reeks of a place where you want to be. Ben and I were relaxed and trying to make our decision from the array of pizzas on the menu. We each had a Caesar Salad, which was good. Then Kim noticed I was taking photos of the pizza oven with my Windows Phone and asked if we wanted to move inside. So we did.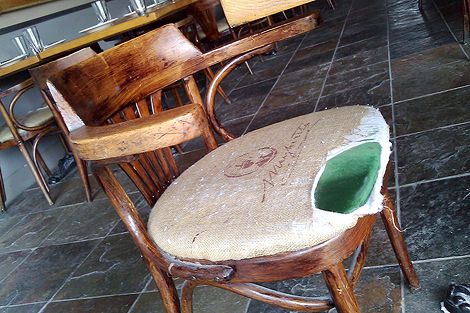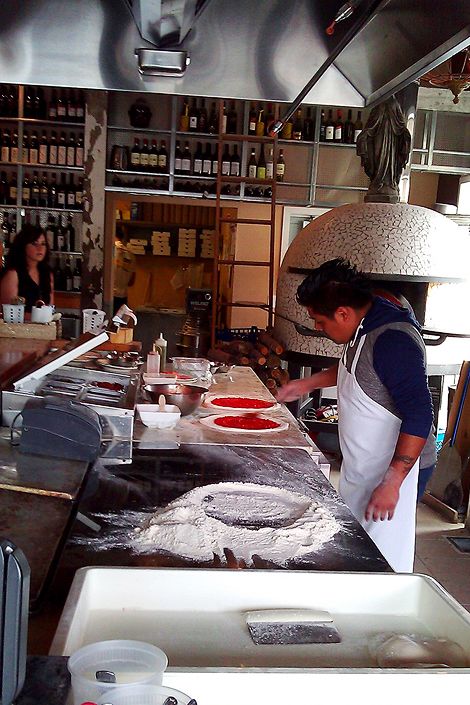 "Have you been to Mondello's on the other side of town?" Kim asked.
"Tammy and I were there a couple months ago."
"Did you enjoy it?"
"Very much."
"Same owner," she said. "So you should like the food here as well. It sounds kind of kitchy, but the tomatoes he uses are grown on Mount Vesuvius. So the minerals in the soil and the lack of water give them a really fresh flavor. Makes for a great sauce."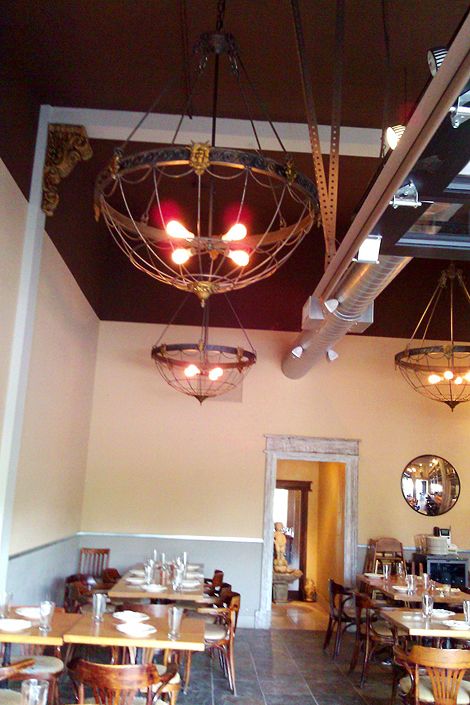 Ben ordered the pepperoni and I had one of the specials, Salame e Roma. As I took my first bite, I knew this was going to be a memorable pizza day. I'm not a cook. I don't know flavors. I'm not Tammy. But this pizza was really good. Very flavorful and just the right amount of zing. Maybe it was the Vesuvian tomatoes. I don't know. I've had good pizza before, but this one was better. I wanted to eat the whole thing, but I knew I needed to save a slice for the lady.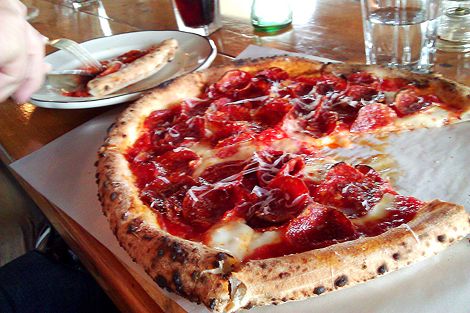 "How's your pizza?" I asked Ben.
"Good," he said without looking up.
I took more pictures. The wine rack, the vintage barstools, the fork-knife-spoon wind chimes, the sign board.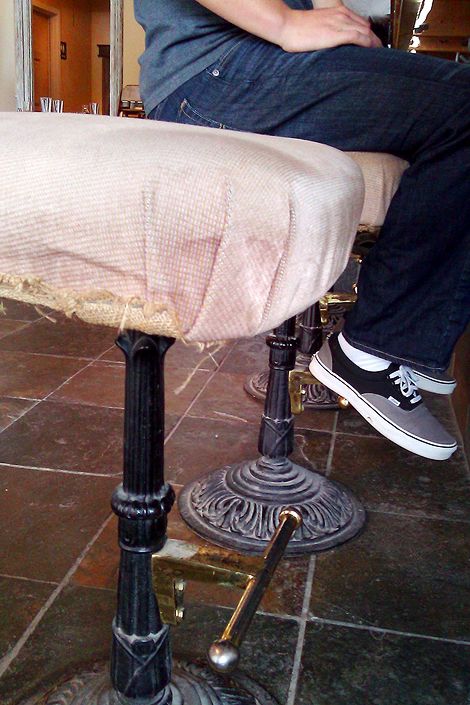 And the pizza chef, Oscar, who worked pizzas in and out of the 900-degree oven like a guy spinning plates on The Ed Sullivan Show. Each one cooked to perfection. A few other patrons had shown up, so Oscar was in his element, taking orders and working his magic.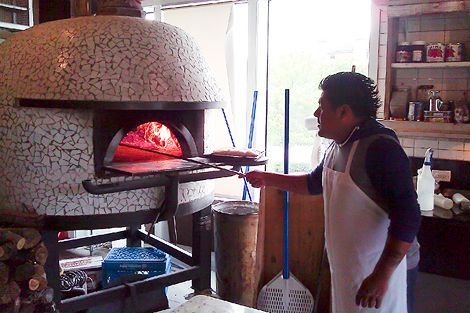 "You should come on a Friday or Saturday evening," Kim said, almost apologetically. "At about 9:00, the place is packed and alive and lots of fun."
After a dessert of chocolate gelato for Ben and some sort of delicious custard-marzipan combination for me, we thanked Kim for a great experience and took our remaining four slices home.
When we got there, the last of the guests were leaving and all the ladies were considerably less stressed than they'd been a few hours earlier. Ben and I stowed the pizza in the garage fridge, thinking it would be safe until at least the next day.
Wrong.
A half hour later, I caught Alyson walking in from the garage, scarfing down a slice cold. ("I'm famished from eating finger food all afternoon!")
"This is really good," she said.
"I know."
"No, I mean really!"
"I know. Don't you want to heat it up? Kim gave me specific instructions about how to reheat it in the oven and not the microwave."
"No. Can I have another piece?"
"Go ahead."
Alyson ate a second piece, and would've had another had I not told her to leave the last two for Tammy. I know Tammy well enough to know that she'd want to sample both pizzas, probably with a glass of Cabernet over lunch the next day.
Wrong again.
That evening, as we sat around the kitchen reflecting on the events of the day, Tammy suddenly looked at me and said, "I'm kind of hungry. Is that pizza still out there?"
It wasn't for long.