This little slice of wall space is just outside of the walk-in pantry that I'm so blessed to enjoy. Every time I walk in to grab an ingredient, a small appliance, a slice of bread, a jar of peanut butter ... I breathe a prayer of gratitude.
Just before the wedding as I prepared for houseguests to share our space, I wanted to do some updating and this insignificant space demanded my attention ... partially because we put up a backsplash (post later!), and also because I moved what was hung here which meant that this space needed attention.
Truth be told ... this project didn't get done before the wedding. When our guests were here, this white frame still had the eight black screws showing through its glass. Emily came back from her honeymoon and I said, "Hey look ... " and she stared at it attempting to be polite at what she supposed was my artistic effor to use Morse code!
The Starbucks painting was given to me by dinner guests years ago and has usually had a place of honor near my espresso machine. With the new tile backsplash in place, it needed a different place to call home. This wall was perfect for it, but it seemed lonely. I found this distressed frame on sale and knew exactly what I would do with it ... I would stencil the word "eat" on burlap and frame it.
If you decide to do this project, be sure to measure the VISIBLE part of the frame. The space behind the opening is probably larger, but be sure to measure the part that will finally be seen just to be sure that none of your beautiful stenciling will be hidden by the fame.
This project requires a stencil and if you find one that you like and fits your frame, then use it. However, I didn't find anything with those conditions so I made my own. I bought Martha Stewart's stencil film. I would think, with all her practicality, that she would insist on these stencils being packaged flat. But no, they are packaged in rolls and are near to impossible to lay flat.
I taped the corners and put the tape dispenser on one end. I wonder if I should've used masking tape because the Scotch tape took off some of the blue stuff. That didn't effect the project ... I'm just wondering out loud.
Enter Photoshop (or whatever program you choose to use ... Microsoft Word will work just fine). Keeping the size of the frame opening in mind, type the word you want to stencil. I used a bold typeface (Britannic Bold). I was looking for a font with as many straight edges as possible, but one that also looked like a typewriter.
I printed it out, cut the paper smaller, then taped it to the stencil film. The painstaking process of cutting it out with an Exacto knife then took over the next few minutes of my evening. I would usually ask Ken to do this for me because he is SO good at it, but I wanted to prove to myself that I could do it ...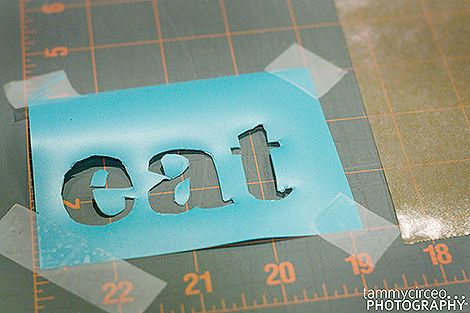 My edges weren't as clean as if I had been able to die cut the letters, but with the roughness of the burlap and the organic nature I was going for, it didn't matter very much.
I taped the burlap to a piece of waxed paper before stenciling to keep the paint off of my cutting mat.
The "holes" on the letters "e" and "a" were not attached, obviously, so I glued them to the burlap and the edges got taped down.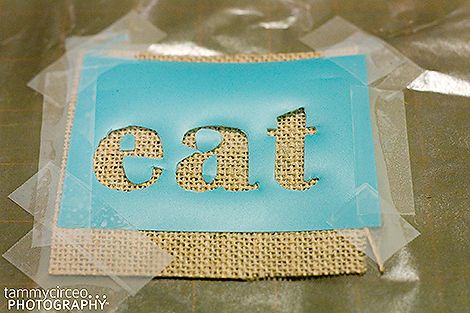 I love Martha Stewarts stencil brushes, but there are tons on the market. Just be sure to get a super stiff one for the best results. I used a 3/8-inch brush.
Stenciling is not a difficult thing to do, but in the case of a piece of stenciling film that insists on buckling even though it has been taped down, you will probably have to use your fingers to hold the edges close to your fabric. You don't want the paint bleeding under the edges.
I used an acrylic craft paint and allowed it to dry about an hour before removing the stencil.
Beautiful!
I love it!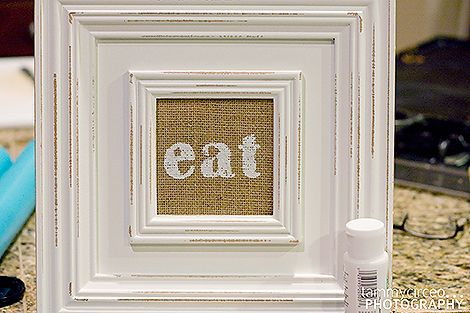 If you'd like a pdf downloadable with instructions, leave comments. I'll be happy to create that!