Whew! What a week ... In some ways, it's been restful given that I just hung loose with Aly much of the week while she recovered. However, I often find that too much rest makes me tired. You? :)
This week's recipe for French Fridays was supposed to be Beef Cheek Daube with Carrots and Elbow Macaroni. Kind of sounds good, but with the stomach flu present in our house, any strong fragrances might have sent the sick running. I've never eaten beef cheeks, have you? Chuck roast can be substituted, Dorie says.
So today, I'll tell you about the last two recipes I was supposed to have posted, but didn't. I made both for hors d'oeuvres on Thanksgiving. The first was Goat Cheese Mini-Puffs. They are gougeres, basically, with an herbed cream-cheese/goat cheese mixture that tasted like Boursin. They were tasty enough, but my family thought the filling was too much cheese for the puff. We prefer straight gougeres ... or cream puffs. With chocolate drizzled on top.
The second was Herbed Olives. I diverted a little from this recipe because although the herbs and even the orange rind that Dorie suggests sounds good, my goal was to recreate the olives that Ben and I had at Queen Margherita's.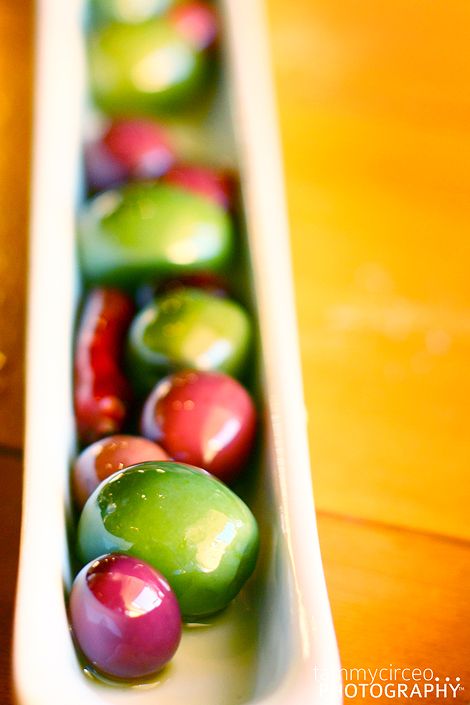 They use a mixture of olives, my favorite of them being the Castelvetranos ... those bright green ones. They marinade them in olive oil seasoned with garlic and dried red peppers. Simple as that.
Use whatever olive you'd like, but try to use one that is kind of plain so you can taste the marinade rather than the olive brine. I used about 1 1/2 pounds of olives, 2 cups olive oil, 4 dried red peppers (broken in half), and 4-6 cloves of garlic (smashed and peeled).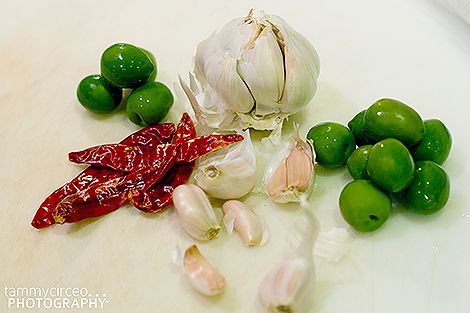 I heated the oil over low heat with the garlic and peppers, just until I saw bubbles coming off the garlic.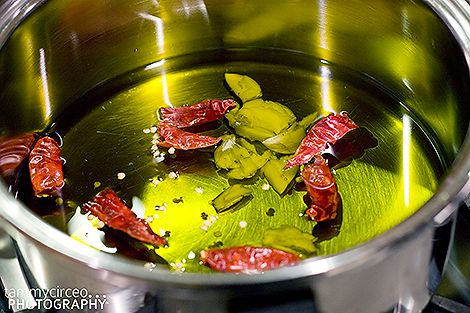 I let it cool, then poured it over the olives. Perfection! These will probably always live in my refrigerator. They are so easy to make and pack such a tasty wallop that they deserve to be on every hors d'oeuvres buffet ... right alongside a crunchy baguette. (If the olive oil doesn't cover the olives, be sure to add more to the jar.)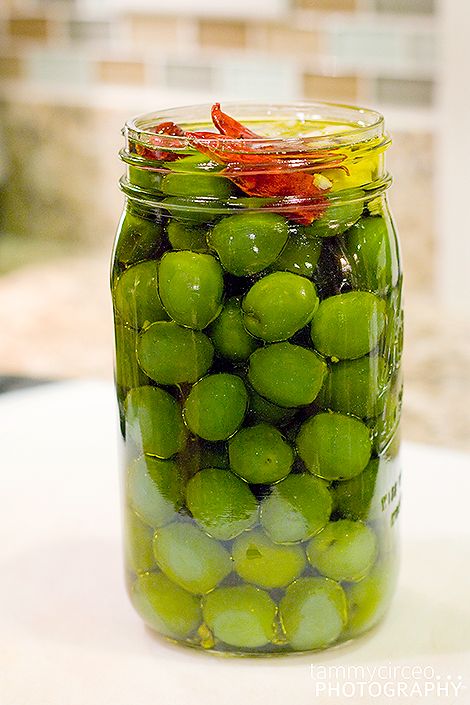 Store in the refrigerator, of course, and let come to room temperature before serving so that the olive oil can de-solidify.
I diverted much from Dorie's recipe so I listed my ingredients and amounts, but ... here's the disclosure: If you're new around here or are wondering what French Fridays with Dorie is ... It's an effort to use one of Dorie's recipes from her cookbook Around My French Table each week. The recipes are decided on by popular vote on the website French Fridays with Dorie. Purchase your book HERE and play along! According to the rules of the group, I'm not allowed to post the actual recipe ... mes regrets.)