It would seem that our Christmas cards have become legendary. It all started years ago when Ken wrote the first note that we attached to our holiday sentiment. In those days, it was probably a photocopy of a "form letter", but no matter its form, Ken had a way with words that hooked people into reading what he wrote.
If we don't get our cards out early enough each year, we get notes from panicked friends and family that are cloaked in civility, calm, and expected decorum.
Something like ... 
"We haven't gotten your card yet..."
"Do you think you'll get cards out this year?"
"How did your Christmas card photo session go?"
"Is Ken still writing 'for fun'?"
"HAVE YOU POSTED YOUR CARDS YET?!"
This year has seemed a bit out-of-sorts for me. I was off schedule. Way off. I didn't even think about our card until eight days before Christmas. I designed it and ordered it in one night and they were on my doorstep two days later. Although I normally design, sleep on it a while, make changes, then sleep again , and make more changes, I just hit the "SUBMIT" key, and made it happen. I didn't avail myself of the luxury of many edits.
Thanks to Carina Gardner and Carta Bella for the lovely papers for the backdrops and to Suzanne Lemery for the photo of Ken and me.
This urgency on the part of friends and family has little-to-nothing to do with the photos or any design, handmade or digital, that I might eek out. It has everything to do with Ken's well-crafted words.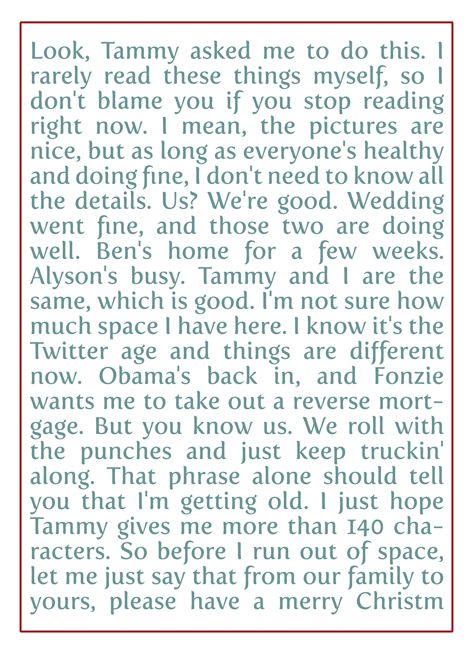 And thanks to him, they also got addressed and posted before the big day! It was a team effort from us ... if it hadn't been, they would never have been posted. From the number of cards that have come in the mail after Christmas, I'm going to suggest that we were in good company with the late posting!
Times are changing, but I still feel strongly about sending Christmas greetings in the mail. Kind of how I feel about cursive handwriting ... Both need to be passed on to the next generation.
I was so happy to see that our newly married kids also sent out cards. Very classy cards, no? Since their wedding was so close to Christmas (about three months ... In terms of adjusting to married life and getting prints from the photographer, that was a short time!), they were able to use their holiday greetings to send their gratitude for wedding gifts. If that's not "killing two birds with one stone", I'm not sure what is. :)
We hope your Christmas celebrations have been wonderful and that you've had some down time, some time to just "BE", some time with friends, some time to hang out, watch movies, play games ... We all need a break occasionally, right?
So I'm taking one ... a break, that is. :)
I hope to see you here in the New Year!