Christmas Eve ... I can't believe it's here already. Santa comes tonight!
In anticipation of his flying around our sphere and doing my own little "elf-ing", I landed on a gift to send my dad, aunt, cousins, and brothers.
When our Mama Trudy left us last April, we were left with the task of clearing her belongings out of her apartment. My aunt was all too anxious for any or all of us to take whatever we wanted, but that be said, there was little to be had. Mama Trudy lived frugally and simply.
She did have one very precious possession and I think if her apartment had caught fire during her last few weeks, she would have insisted that her Bible be rescued.
All of my brothers and cousins went through Mama Trudy's things in the process of claiming what they might feel was personal to them. One of the things I found was this little "basket", probably made by Mama Trudy, with a pipe cleaner handle, to house these little "personal Bibles". My aunt believes them to be at least 50 years old or older.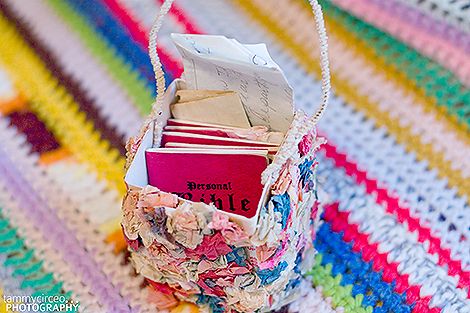 When I found them, I knew that I would use them as a gift to us all. I thought of making Christmas ornaments, but didn't know how to make them original. I brainstormed all year and still ended up with a very simple design ... befits Mama Trudy, no?
The baby Bibles opened naturally to a fabulous verse ... one that I knew Mama Trudy wished for all to read and know ... She had asked us all, "Do you know Jesus?"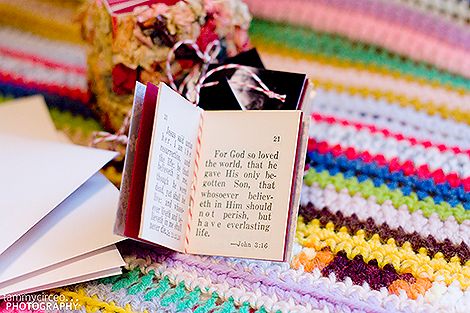 My aunt had taken a photo of my grandmother just weeks before she met Jesus' face to face. She sent it to me and I stored it on my hard drive. I knew exactly where to find it when I considered this project! I decided to made a book cover with her photo on the front and a sentiment on the back. They were attached to the book with baker's twine and a cross charm.
The back read: "Mama Trudy loved Jesus and His Word, reading it through each year since 1967. When I found these little "Personal Bibles" tucked among her things, I knew immediately that they would make one-of-a-kind Christmas tree ornaments for each of us, reminding us to treasure not only our memories of her, but also to treasure  God's word. She asked us all ... "Do you know Jesus?" We love and miss you, Mama Trudy!"
There were plenty of those little books to make for my dad, his sister, my cousins, and my siblings to add this special ornament to our Christmas trees.
Sentimental always gets me.
Merry Christmas! Don't stay up to late waiting for a glimpse of Santa ... :)