As I sit in the light of my office lamps on the eve of the last day of 2012 writing this post, with the noises of sports shows and board games in the background, I'm acutely aware of how many blessings our family enjoys. 
There are many reasons that families are not together on the holidays. I can only assume that there are many children who longed to be with their mom and dad during these holidays as there are moms and dads who longed to have their sweet kids home with them. Ken and I count it no small blessing that ours were with us. (At least, the unmarried ones! :) )
Our tree was brightly lit .. thanks to Ken's selfless effort. He truly doesn't like putting the lights on the tree, but he puts them on every year with no complaining and only the occasional grunt because he knows how much it means to me. Our tree was laden with many inherited ornaments as well as the ones that our children made. I could have made complaints that Em and Kyle weren't here, that we didn't have extended family around, that things weren't as I imagined they would be, but ...
We were warm and cozy on Christmas morning ... What more could I possibly ask for?
WHAT MORE!?!
It is our tradition — and we welcome the duty that some feel it is — to read the story from the Bible that outlines the reason we celebrate this holiday ... "And she brought forth her firstborn son, and wrapped him in swaddling clothes, and laid him in a manger ...
... because there was no room for them in the inn..."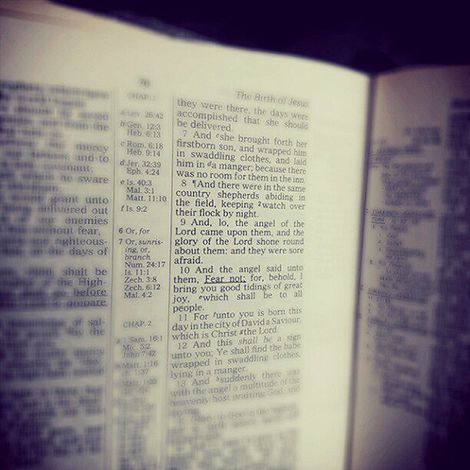 "... there was no room ... "
That scenario always gives me pause. "... there was no room ... "
There was no room for Him then? Is there room for Him today? What is my response to that scenario in my life today? Do I have room to consider His place in my life? Does He have a place in my life? Do I want to give Him a place?
So much to consider ...
Maybe I think about that even more because our family experienced significant loss this year. I was in an online conversation with my aunt and sister-in-law at the very moment our Mama Trudy passed. My aunt shared that very real life moment with me and my sister-in-law —we saved the transcript of it! — and I'm sure the three of us will never forget it in the countdown of our 2012 moments. "Girls! I think this is it!" And it was.
We DeRusha grandkids said good-bye to our last living grandparent. She left this earth, but we continue to feel her absence. She was one of a kind, that lady ... Her life's story is something I hope my kids, grandkids, and greatgrandkids can tell about me as well. Mama Trudy left her mark on the world!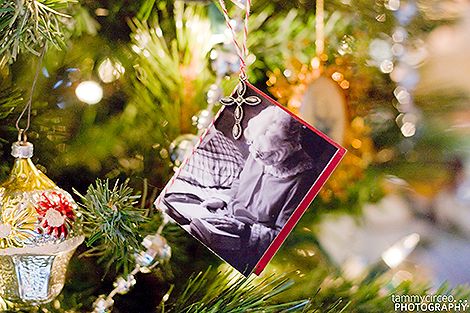 On a slightly lighter note (although Mama Trudy would probably find the seriousness in this game of baseball since her first love was a baseball player!!)  ... Christmas, as every other season in our house, always involves baseball. On a tree decorated only in white, brown, blue, gold, and silver, I'd say a baseball has a place ... IT'S WHITE, people, it's white!! Our Red Sox ornaments also made the final cut. I would've been cut from Ken's will had I not included them in our Christmas tree decor so it was in my best interest to hang them on a random branch ...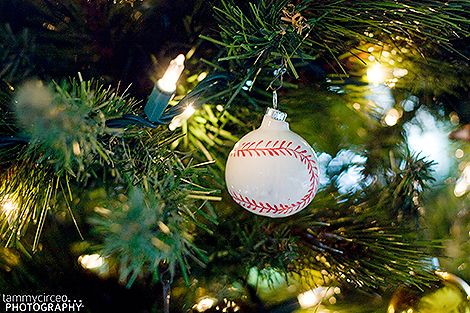 Our Christmas dinner was ham (per Ben's request —Christmas Ham!), Grandma's carrots, roasted potatoes, sweet potato casserole, corn, sauteed green beans ... very colorful indeed.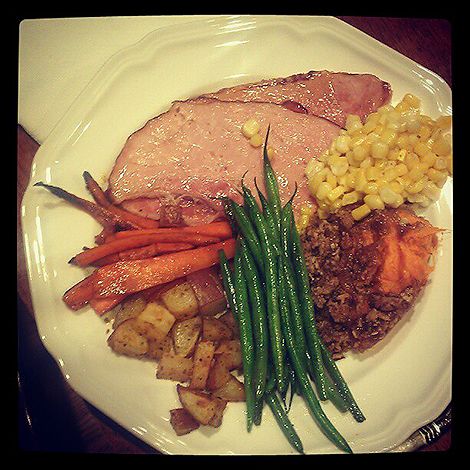 As always, our holidays have been marked by days and evenings full of movies, TV shows, Scrabble, candlelight, lots of sleeping in ('cuz we stay up too late!), Farkle, cooking, laughter, Yahtzee, cheating at Yahtzee (oh wait .. Oma isn't here?! How is cheating happening?!), baking, Trivial Pursuit (which Ken always wins) ...
Ultimately, I can say that as this year winds down, I'm a humble girl turning in circles and knocking my head against the wall wondering how I was was gifted with a family who continually challenges me to be better, to think outside the conventional box, and to reach beyond my comfort zone to impact a world I am not even yet aware of .
We are all excited to see what 2013 brings to our table. I hope you'll pull up a chair and play this game of life with us! I sincerely am grateful to everyone who becomes a part of this blog and follows our family through this maze of life.
(Some photos shot by DSLR/others by Instgram/all shot by TammyCirceo)