My grandmother, whom we called "Mama Trudy", was a frugal person. It seemed that she could make something out of nothing. If she wanted to stitch, but had no means to purchase linen, she would stitch on burlap feed sacks she found in the barn or on inexpensive muslin fabric. She made her own patterns of things that she loved, not spending a cent on preprinted ones. She used the jig-saw to cut a piece of wood into a decorative shape, put her stitchery on it, cover it with clear contact paper and nail it all in place with small nails.
When we went through her belongings after her passing, I gravitated towards her fabrics, crocheted pieces, and stitcheries and found quite a lot of loveliness. One thing Mama Trudy loved above anything was the Bible and the truths found in it. They were the subject of many, if not all, of her embroidery pieces and while she performed her own framing on many of them, I found two "free spirits" among the textiles. They were creased and had significant stains and water damage so I was challenged to clean them and still maintain the integrity of the color.
The lettering on this one is a chain stitch surrounded by embroidered flowers and leaves ...
This lettering on this one is also a chain stitch, but the flowers and leaves are thread-crochet. After cleaning it, I slip-stitched a length of Mama Trudy's crocheted lace around it to hide the fact that she painted around it to keep it from raveling. I told you ... she was frugal. (The verses are more difficult to read in this one. They are "I have no greater joy than to hear that my children walk in truth." "Jesus saith unto him, I am the way, the truth, and the life; no man cometh unto the Father but by me." And "Only fear the Lord and serve him in truth with all your heart for consider how great things He hath done for you.")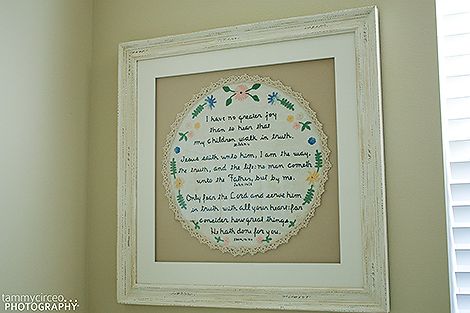 I knew I wanted to frame them in some way in order to preserve them better so I contacted my friend who specializes in framing, Heidi. She suggested simply mounting them on a background, framing with a raised mat so that there would be room between the glass and stitchery, and I picked out a vintage-style, rustic frame that I feel complimented Mama Trudy's work and life.
When we were expecting guests for Emily's wedding, I was finally motivated to do something with Ben's old room so I made it a twin guest room and Mama Trudy's stitchery was the perfect thing for over the heads of the beds.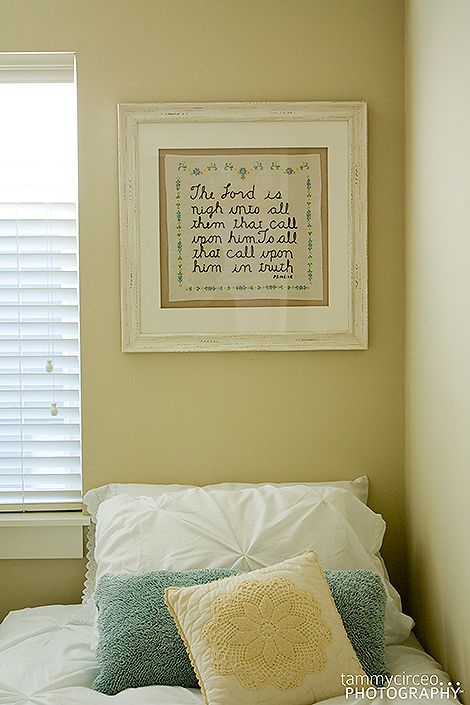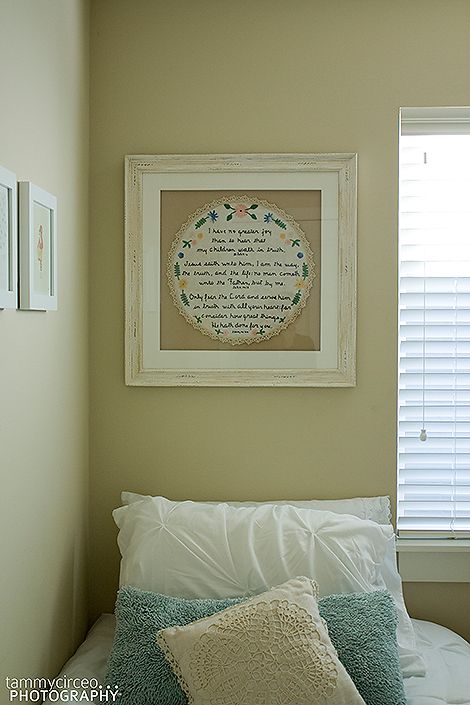 It's a simple room for the moment with a small, curved-front, tiger-maple dresser that I got from Emily, white comforters and shams from Targer, wool throws (that Mom bought in Europe many years ago), Mama Trudy's crocheted pillows and dresser topper, and I got the small lamps at Target. There are still a few touches that I'd like to add to the walls, maybe bring in an area rug for more color, and soften the blinds with a window treatment of some sort. For now, this room is peaceful and perfect for nieces and nephews to sleep in when they come. I'm grateful that I could restore the stitchery and mount them in such a way that I hope many more generations will enjoy. Such a treasure.