Over the weekend, our son was out of town playing baseball and we weren't able to go watch. The games are on a website where we can watch play-by-play on a baseball diamond graphic. It can get a little boring just staring at the computer screen for the typist to update the activity so I decided to sort through piles of paper while I watched. I don't know about you, but around my house, piles seem to grow like weeds! 
One of the piles was all of our Christmas cards. Remember the book I made last year? My plan (back in November) was to prepare my book so that as cards came in the mail through the holidays, I could put them in immediately and at the end of it all, I would have a finished book! You've heard that saying, "The best laid plans ..." Yeah, so they've been neatly stacked on my desk for two and half months. Which is better than several years in an envelope in a box, right?
I followed the same plan as last year's book. Our own card is the first one, then my favorite one of all time came next. :)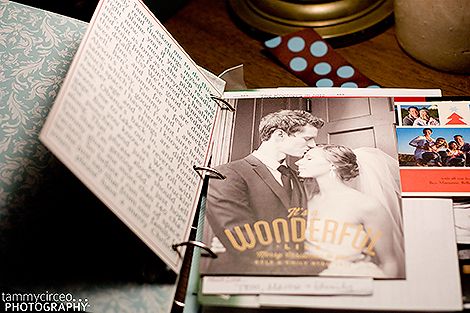 We got cards of all sizes, of course: 5x7, 4x8, 6x8, 5x5, 8.5x11 letters ... There were photo cards with letters attached and there were also store-bought cards and handmade cards ... 
I found that using three holes is good because some need three holes and some only need two. Sometimes that depends on whether they were printed with portrait or landscape orientation.
Some letters I punched along the top and folded over the accompanying photo from the side.
I wish I had done that on all of them, but I folded some up from the bottom which made the flap overlap the ring and not fit. I didn't want to put the ring through the hole because I wanted to be able to unfold the letter to read it.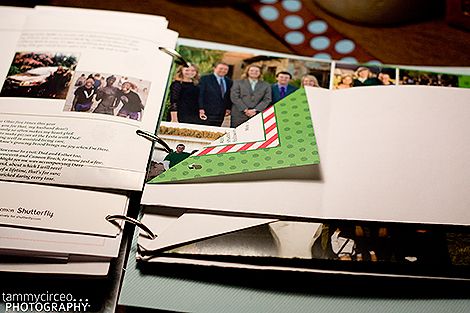 The cover is very simply two pieces of card stock glued together. On the front cardstock, I used Carina Gardner's Santa's Sleigh snowflake graphic and frame as well as Jessica Sprague's Winter Wonderland paper. The outside is a diagonal stripe and the inside is a damask in the same blue. (I just noticed in these photos that I put the back cover on backwards ... with the stripe on the inside! I'll have to change that.) Everything was punched and is held together with book rings. I like the addition of ribbon on the rings and I also threaded one along the front cover to hide another mistake I made with punching it upside down! Upside down, backwards ... apparently that is how I was rollin'! It might help to purchase a ready-made 3-ring binder!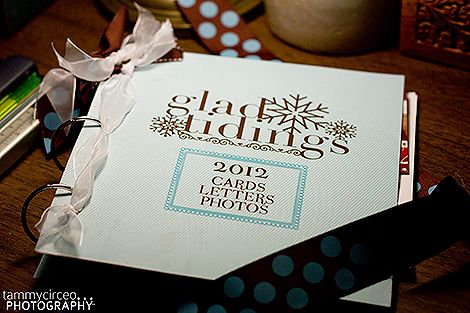 Do you keep your Christmas cards, letters, and photos? Do you have a creative way of keeping them?