In my never-ending quest to save money and to eat optimally, I'm continually surprised at how easy it is to make some of the foods that we instinctively purchase without wondering if we could make them at home. Since I know you think I'm off my rocker for making my own ricotta cheese and yogurt, I'll go ahead and readily admit that this last weekend, I made homemade creme fraiche, homemade ketchup (which my neighbor boy declared yummy!), and homemade mustard.
It sounds like I slaved in the kitchen all weekend, but if you read my Le Weekend post, you know that isn't true. I'll tell you about the creme fraiche and the ketchup in a different post, but for all three, it was a matter of mixing a few ingredients and leaving them alone for a while.
So what about this mustard? I found several recipes for different mustards in a magazine last year and I planned to try some of them, but when I read David Liebowitz' post last week about mustard, I was inspired to get started.
Folks, it couldn't be simpler than putting mustard seeds, salt, white wine vinegar, white wine (or water), turmeric, and a pinch of cayenne ...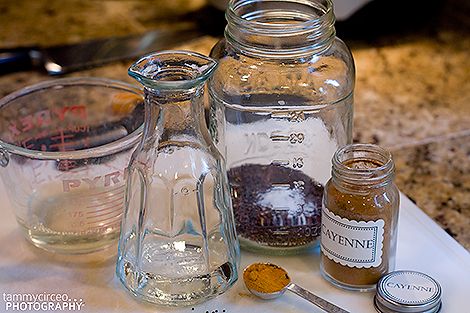 ... in a jar and leaving it to marinate for two or three days. The following photo is when I first put it in the jar and I neglected to take one after it sat for two to three days. It appeared very thin initially, but the mustard seeds absorb some of the liquid as time passes and that lends toward to the proper consistency of the mustard.
After two to three days, put the ingredients in a blender (I used my Nutribullet) and blend it till it is as smooth as possible, adding 2-4 Tablespoons of water if the mustard is too thick.
David's rendition of the recipe (that he adapted from Joe Beef) includes maple syrup which I'm sure is very tasty, but I chose not to add any sweetener. I also added a bit more than a "big pinch" of cayenne so my version is more on the spicy side than intended and in no need whatsoever of the horseradish that is also recommended. I used dark mustard seeds which also tend to be more spicy, but white (yellow) seeds would be completely acceptable. After all ... it's your kitchen, use whatever color seeds you want, add sweetener and horseradish if you want! I'm sure every batch I make will be slightly different. Thus is the beauty of home cooking!
(You should look to buy mustard seeds in the bulk section of your market. To buy them in the jar is really an expensive way to go. I figured I have less than $1.50 worth of ingredients in this jar of mustard.)
I would characterize this mustard as a stone ground Dijon-style. It is spicy like Dijon, but with a bit of seeds still. If I left it in the blender longer, I'm sure they would grind up even more.
The text I sent Mom after I made it was, "If I knew how easy it was to make mustard, I would never have bought a single jar."