I'll be the first to admit that I am an old soul. I love learning about how my parents, grandparents, and great-grandparents lived and finding objects they might've used or been familiar with during their life fills me with curiosity.
Cast iron cooking and baking vessels are part of that group of objects. Cast iron is as old-as-the-hills having been used centuries ago in China and brought forth through centuries and cultures. Needless to say, it has stood the test of time. How can it not have? It is IRON and with a little care, indestructible.
I have quite a nice collection of cast iron skillets in all sizes as well as a couple of recently acquired loaf pans. The Dutch oven I received as a wedding gift is *sadly* at my mom's because I realized way too late that it would be invaluable to my kitchen essentials. Honestly, I never really considered cooking or baking that much in cast iron until recently.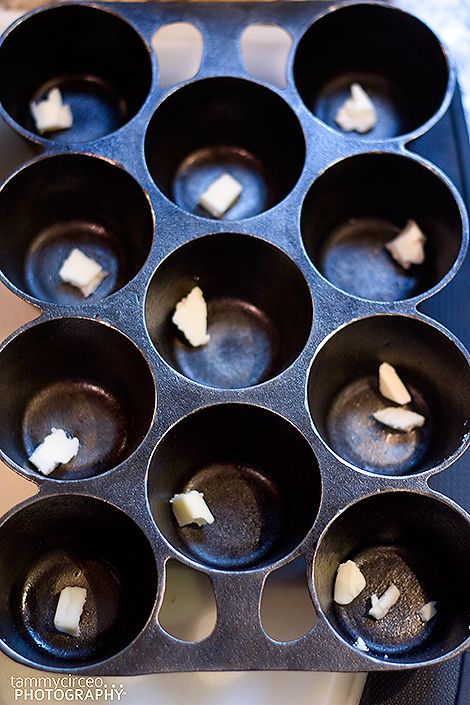 I've done a bit of online research on cast iron and have learned that one of the premier names in the history of cast iron is Griswold. Imagine my GLEE (YES .... full-on GLEE!!) when I recently found a Griswold popover pan that had been beautifully kept or at least restored to its usable state! I wish I had snatched it up immediately because I would've saved myself the anguish of imagining someone else purchasing it and missing out on the pleasure of baking with it. According to its markings, it is anywhere from 50-85 years old. A couple of days after discovering it, I went back and bought it ... for about a third of what they are going for in online auctions! Score for me.
I found myself researching popover recipes and was surprised to learn that although they are much like souffles and should be treated with care and reverence during the baking process (like not opening the oven door), they are really nothing more than four or five ingredients whisked together and fully enjoyed with either savory dinners (think roast beef with plenty of gravy) or with fruit jams for breakfast ... and butter.
I made them with both meals ... the roast beef dinner and then the next morning for breakfast. They were almost done when I started the eggs. And they were almost GONE by the time the eggs were done! The kids (AKA "Em") had a hard time resisting "just one more".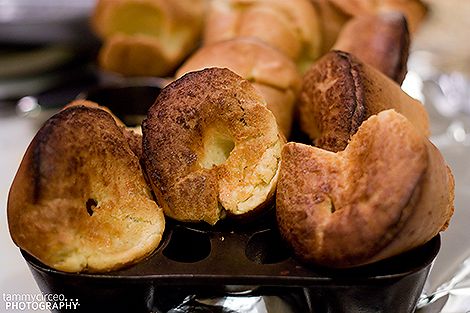 Em and Kyle had stayed the night and they, along with Aly, came sleepily down the stairs thinking I was making pancakes or crepes. They devoured them with butter and strawberry jam. I wish I had a photo of the jam dripping out of their popovers. It happened to all three of them! Delicious memories!
This recipe can be made in a regular muffin tin. Just grease each tin and fill them half to two-thirds full and you're good to go!