There are some recipes that I don't really need to look at to make the food ...like biscuits, cornbread, Jamey's Margarita, fresh pasta, crepes, Grandma's Terrassen... but because my brain is the age it is and memory has been fading since I started college, I tend to tuck often-used recipe cards or scraps of paper inside the cabinet door right above my workspace to remind myself of the details.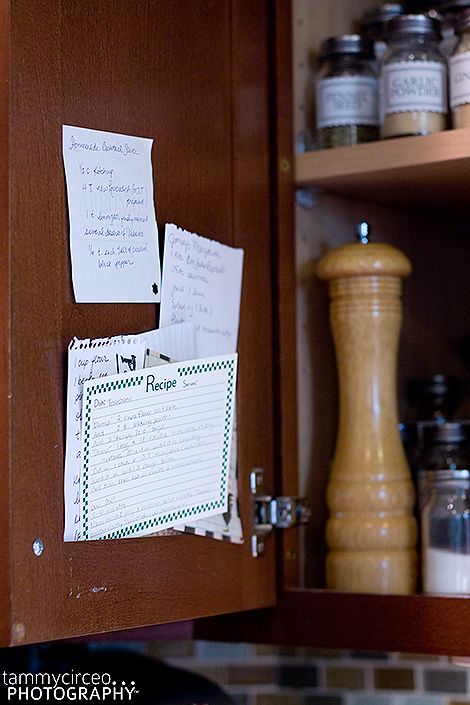 My system works fine, but sometimes the cards and scraps of paper fall down. Or the recipe I thought was there can't be seen because it's tucked behind others. And it looks messy and disorganized. I prefer my disorganization to be perceived more positively. :/
Enter the bright idea of adhering corkboard to the inside of the cabinet door. It can be purchased in 12x12 squares at the office store, supermarket (like Target), or of course, online. It also comes in a roll, but I think that would be difficult to keep flat enough to adhere well. The inside of my cabinet doors are 8 3/4 inches wide so I used an exacto knife to score the corkboard, and it snapped apart easily. 
The corkboard comes with adhesive squares so it was easy enough to put those on and stick it on the inside of the door. I stacked two pieces, leaving the very top of the cabinet door clear. Since I am short, I can't see that far up anyway! That top shelf that is just out of the frame in the photo below requires the highest tip toes I can muster to reach the things at the edge (if I'm lucky) and usually a stepladder!
A few pushpins later and my recipes are much more organized than before. Such an easy solution, right?