I've liked artichokes for as long as I can remember. They are almost floral in appearance ... yes, in a structural, prickly kind of way, but perhaps roses could be characterized that way, too.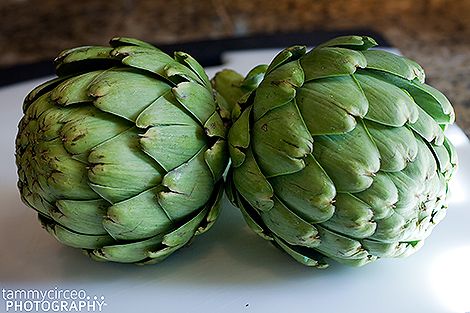 Many people haven't given artichokes a fair shake. The jarred variety certainly has its place, but knowing how to enjoy fresh artichokes is an added bonus. Certainly, the fresh ones appear intimidating to prepare and perhaps the name itself puts people off of tasting them. However, a few handy tricks and you might find yourself on the way to enjoying a new-to-you food.
To prepare them, first cut the stem off.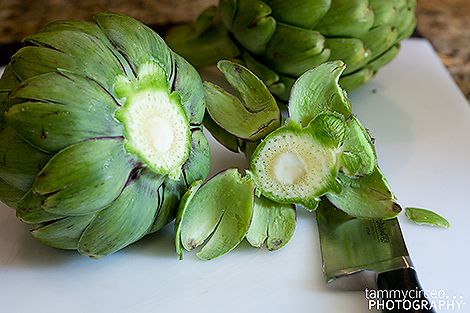 Then, cut the top off a bit.
See that prickly thing at the top of that leaf on the right side of that artichoke? Those hurt ... like rose thorns. Pick artichokes up by the stems to avoid them.
Cut the tip of each leaf off with kitchen scissors. (A better idea would be to cut those tips off first so that when you grab the artichoke to cut the stem and top off, you won't get pricked!)
Your artichoke is now ready to cook. You could bake in it the oven with a little water or white wine in the pan, if you wish, but I usually choose to steam them. Put an inch or two of water in the bottom of a large Dutch oven and nestle the artichokes in. I like to flavor the water with lemon juice (and I throw the squeezed rind in there, too) and sometimes garlic cloves and any herb you like. I think thyme is nice. Anything you put in the pot will flavor the artichokes. Cover the pot, bring to a low boil, reduce the heat and let them cook for 30-45 minutes. You'll know they are done when you grab one of the lower leaves and it releases easily.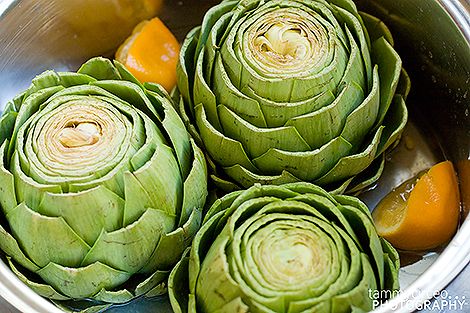 At this point, you can proceed to eat the artichokes as is or you can use them in other recipes. Tomorrow, I'll show you how I love to eat them if I'm not using them in a recipe! We'll get to the "heart" of the matter. ;)
In the meantime, go buy some artichokes because after tomorrow's post, you're going to want to eat some!