Forsythia is a flowering bush that I look forward to seeing every Spring. I love when they are allowed to grow wild and freeform rather than when they are cut into rounded bushes. I've always had a forsythia bush, but for some reason at this house, I haven't yet planted one. I think I'll remedy that this Spring!
I do, however, have a fake forsythia wreath that has always looked a little lonely and a bit worse for the wear, in my opinion, so I decided to spruce it up a little with a monogram made from wine corks.
I printed out our last initial as large as would fit on an 8x8 square because that is the only size of thin cardboard that I had. Use whatever font you'd like, but I would recommend not using a super fancy one ... just something simple, perhaps with a bit of a serif like this "C" has. I cut it out just a little larger than what I printed, but I'm not sure that is necessary.
Using my hot glue gun, I chose several corks and glued them to the letter and also to each other on the sides. I had some turned stained side up and others in the opposite way. There were a couple of odd spots that needed to be filled so I trimmed the cork using a serated cake knife. Be very careful doing that ... the serrated edge glides through easily enough, but because corks are rather small in diameter, it would be easy for the knife to slip.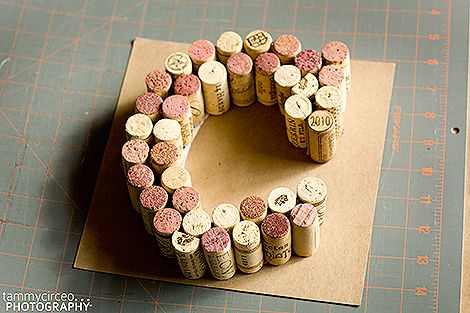 After everything was glued and I was happy with the shape, I used an Exacto knife to cut the cardboard from around the edge.
I attached it to the forsythia wreath with a bright spring green ribbon and my front door is now monogrammed. :) Happy Spring!