Every time we go to an authentic Mexican restaurant, usually little holes-in-the-wall types of places or taco trucks, they have marinated vegetables and I can't get enough of them. They are so delicious, crunchy, a little spicy, and add interest to a taco like you wouldn't believe.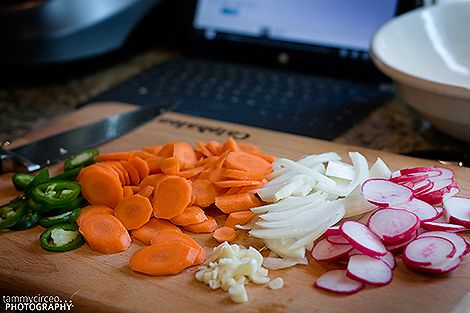 Pickling is enjoying a new attention in the culinary world recently which is wonderful, in my opinion. Not only are pickled foods delicious and long-lasting, they are also very good for digestion. It sounds like a huge undertaking, however, in this case, it really is as simple as heating a little vinegar, flavoring it with some oregano, a bay leaf, and 8-10 peppercorns. Usually, Mexican pickled vegetables include carrots, onions, jalapenos, and sometimes radishes. Other times, the radishes are sliced fresh along side, which makes total sense because the red of the radish comes off in the pickling liquid. That doesn't bother me, but for presentation's sake, you might choose to leave them out. Cauliflower is also often included.
Bring the pickling liquid to a boil, put the vegetables in for a couple of minutes, then put them in a bowl to cool.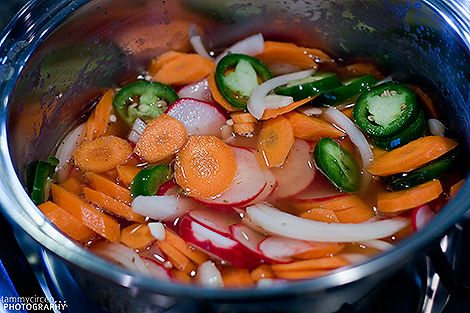 Once cooled, put them in a jar to store in the refrigerator. They'll be good for about two months so you can make a batch and enjoy them either for a big Cinco de Mayo party or for many Taco Tuesdays! They can be served cold or at room temperature and I dare you to not taste them as they cool ... I bet you won't be able to help yourself!!
Bon Appétit!