I fully believe that polenta is underused in American cuisine so when I found this recipe for Polenta with Corn and Thyme, I had to try it.
I remember once while living in France as a child, a friend of my mom's was showing her how to make it. For some reason, I remember her pouring it into a dish lined with a dishtowel, then covering it over till it set. I seem to remember it being smooth and soft, and I wish I could remember that process. In America, most times I've had polenta, it has been a larger grain, cooked thicker, shaped into logs, cut into slices, then grilled or griddled. It is wonderful that way, too!
In this recipe, the corn is warmed in a saucepan with a little butter and fresh thyme. Then milk and water are added and brought to a boil. Polenta cooks quickly so when the cornmeal is added, it should be whisked in in a steady stream and continually stirred till it is done, only about five minutes.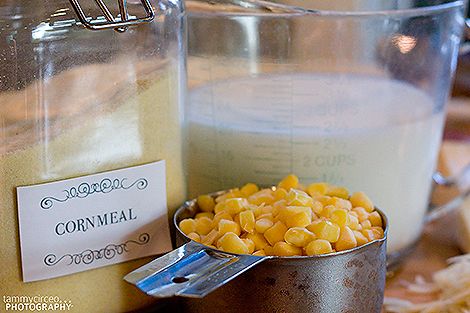 Finish it off with just a tad more butter and some parmesan cheese, season with salt and pepper, and enjoy with roast chicken or vegetables, grilled steak, or any braised meat. Having a little sauce with it is delicious.
Bon Appétit!