We Americans are fortunate to have the culinary influence of our Mexican neighbors, but sadly, much of what we know to be Mexican food has never seen the light of day in Mexico. I love when I find restaurants where the abuela is helping in the kitchen. I found a place like that in Tacoma a few weeks ago when I was needing a little food between Ben's double-headers. They had a salsa bar with about eight different salsas on it and this one I share with you today is one of them.
I had asked the waitress what was in the salsa so when I got home, I did some research to find a recipe so I could have an idea on proportions. Then, I rolled up my sleeves and got to work.
The base of the salsa is tomatillos and avocados. The tomatillos are husked and put in a pan with two small jalapeno peppers and an onion whose layers are separated. Cover with water and cook gently till the tomatillos are soft. [NOTE: Green tomatoes are not a substitute.]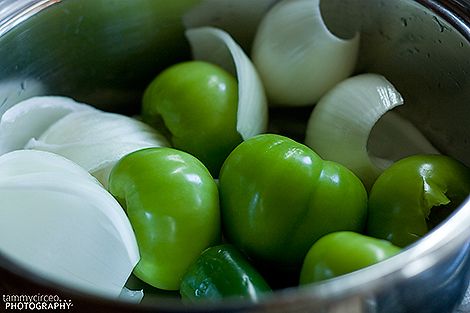 Avocadoes, garlic, cilantro, and lime juice are pureed in the blender and when the tomatillos, onions, and peppers are ready, they are added and everything is pureed till smooth. Season with salt and eat with chips, on tacos or salad, or with fish or chicken.
Are you tired of the same old jarred salsa you buy at the store? Try this one!
Bon Appétit!