Do you know ramps are? They are also known as wild leeks, wild onions, and wild garlic ... I guess it's all the same thing! I remember smelling them in the spring in the South when people started mowing their lawns again, but I never heard of them being eaten until I came to the Pacific Northwest. Because the whites of them are smaller than leeks, you don't have to cut that part in half and rinse out any dirt, but the leaves are "leafy" and "loose" and I found that there was plenty of dirt to rinse.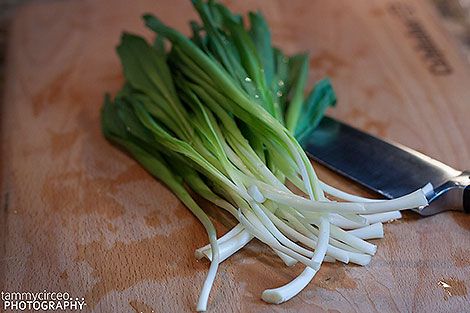 You can use them just like you would onions, garlic, or leeks ... in soups, with potatoes, grilled, pickled ...
Ramps are commonly paired with eggs so when Emily came over to use my computer for a class project, I whipped up an omelette for our lunch.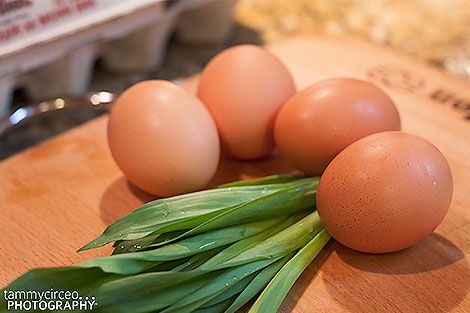 I cut bacon into small pieces to brown. I added the white parts of the ramps, and the mushrooms and let it all cook to  golden yumminess. 
At this point, I should've taken the bacon, mushrooms, and ramps out of the pan, added the eggs, then returned the first ingredients to the pan, but I poured the beaten eggs over everything instead.
Top it off with goat cheese and the greens of the ramps, cover it, keep the heat low, and let it cook till it is set.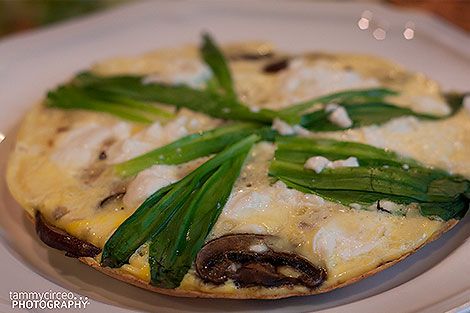 If you read my blog regularly or even only recently, you'll know that I'm not a great fan of eggs. I only eat them because they are good for me, but I found that ramps and goat cheese are enough to make me forget I'm eating eggs!
That's a win-win! Bon Appétit!