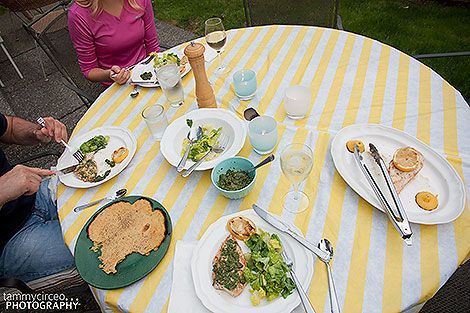 This week's French Friday recipe was for socca ... a flatbread from Nice, France, made from chickpea flour, and cooked on hot iron. I'd never heard of this before neither had I tasted it, but I was glad to read a bread recipe that our Emily could eat with her wheat allergy. It also calls for grated Mimolette cheese, which is a hard, French cheese, only a little like cheddar. I knew I had seen it at our grocery store, but I couldn't find it. The knowledgeable staff told me that the US no longer allows it to be imported (I won't mention why :/) so I substituted with Chimay from Belgium.
The batter is much like that of crepes ... it is thin and is better left sitting for a bit before baking. Dorie stated that it is traditionally cooked on hot (500-degree) iron so I heated up my 12-inch cast iron skillets in the oven much as I would do for corn bread. When they were hot, I took them out, poured the batter in, reveled in the sizzle, and baked them. They baked in sheer minutes and the broiler can be turned on to sizzle the top. I chose to simply flip the socca to the other side.
Dorie's socca is flavored with freshly chopped rosemary and finished off with lots of freshly ground black pepper.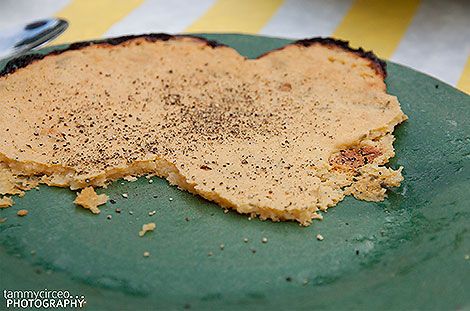 Dorie suggests serving this as a snack or at a cocktail party, but I chose to have it accompany our dinner. I thought something "Nicoise" would be apropos so I grilled chicken and served it with pistou. Pistou is the French answer to the Italian pesto. PESTO has pine nuts or walnuts and parmiggiano along with the garlic, basil, oil and salt ... but PISTOU has only garlic, basil, oil, and salt. Oh and a little tomato.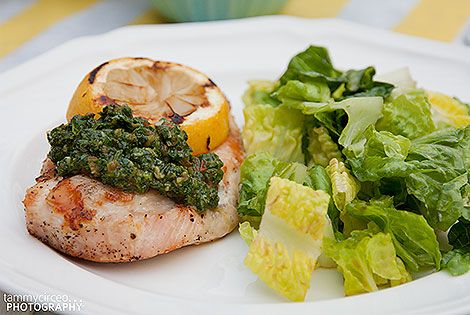 I grilled thick lemon slices and served a green romaine salad along side. The socca was delicious on its own, but we all enjoyed it with a bit of pistou on it, too.
(If you're new around here or are wondering what French Fridays with Dorie is ... It's an effort to use one of Dorie's recipes from her cookbook Around My French Table each week. The recipes are decided on by popular vote on the website French Fridays with Dorie. Purchase your book HERE and play along! According to the rules of the group, I'm not allowed to post the actual recipe ... mes regrets.)