Have you ever had a brilliant idea and wondered how in the world  you didn't think of it 25 years ago? This is one of them for me ...
I'm currently intrigued by the trend among chefs to put a "schmear" of something like pureed peas or carrots, or a sauce of some sort across the plate. It is all for presentation, of course, and it reminds me of an artist's palette, but as I was preparing corn on the cob the other day, I thought how much easier it would be for those consuming corn on the cob if it was already buttered and salted when it came to the table. It seems a struggle to put butter on it with a knife and to keep it from slipping all over the place. There are nifty little corn-on-the-cob-butterer thingies, but mine broke years ago and it was ugly anyway. And of course, you can always put a whole stick of butter on the table and let everyone roll their corn around in it, but that's so primal. :/
So, Little Sophiscated Me decided to do a fancy chef's schmear of butter on the aluminum foil ... just as long as the ear of corn ... from one corner to the opposite diagonal corner and I sprinkled it with a little salt. You could also add other herbs or spices if you'd like ... like paprika, chili powder, lime juice, cilantro, basil ...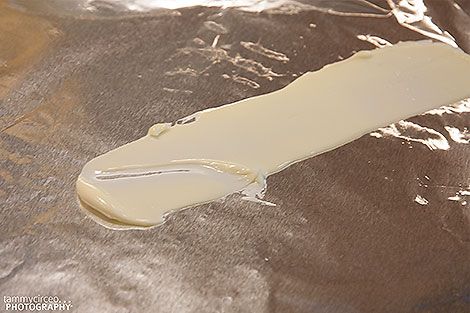 I put the ear of corn on top, another schmear of butter and more salt. Then I rolled it up like a burrito, making sure that there was no open gapes for the butter to escape from. Tuck it all in tight!
I love to cook my corn on the grill in the summer while the meat is cooking. I usually put it on the rack just about the meat and turn it occasionally. It gets juicy and tender like that. Put them closer to the fire if you like some charred bits. Yum! You could also put the corn cobs in the oven, but the point of grilling is to not have to turn the oven on in the summer time!
At the table, just unroll the corn cob and go to town!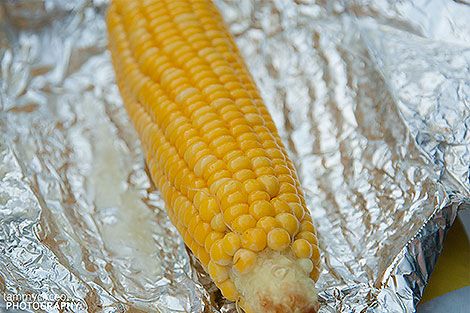 This would also work if you wanted to grill the cobs with the husks still on which I know my brother does. Take a few of the husks off, pull the rest down without tearing them off, remove the silks, butter, season, and wrap the husks back up around. You might get a few more drips of butter into your grill this way so either tie them up tight with kitchen twine, or have a bit of water close by to put out any flare-ups on the grill.
Bon Appétit!
Music to listen to while buttering your corn: