Cherries are one of my all-time favorite fruits and I could almost bet that my love for them goes back to the days of sitting in a cherry tree in our yard in the Alps with a brother or two of mine, eating and chatting the afternoon away, spitting the seeds to the ground. Washington State grows lots of cherries, too, and when I start seeing the road-side stands pop up selling fresh cherries from Yakima, I always stop to get some. It's almost a rite of passage from Spring to Summer.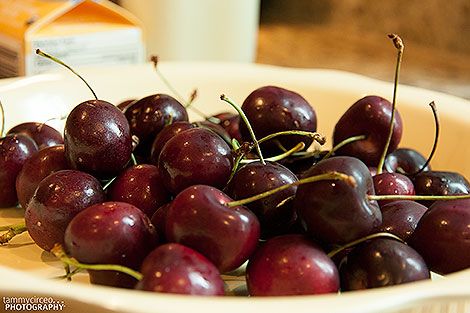 Clafoutis (pronounced "clah-foo-tee") is a not a fancy French dessert. In fact, it's one of those things that every French home cook probably knows how to make simply from watching their grand-mère make it and perhaps each one varies slightly from the next. One thing that doesn't vary is the usage of the WHOLE cherry ... including the pits. My mom once asked a friend of hers why they left the pits in and her friend almost indignantly responded, "Why would I spend time taking the pits out when everyone can do it for themselves?!"
Point taken, Chantal. So just go ahead and save yourself some trouble and stained fingers and put the cherries in whole. Just be sure to warn the diners!
The batter is so simple ... Whisked eggs with sugar, salt, vanilla, flour, milk, and cream ...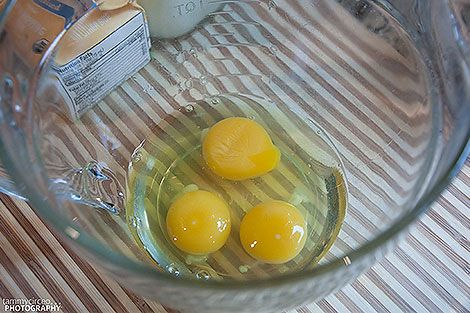 It's like a crepe batter, actually ...
Then pour it over the cherries ...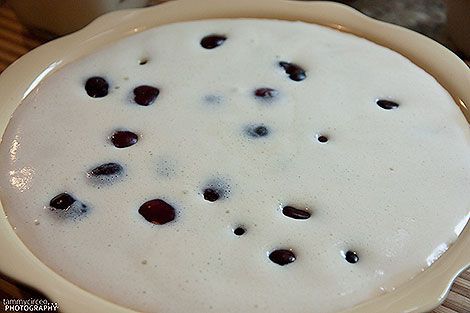 Bake it for 40-45 minutes and you'll have and fluffy dessert with cherry juice escaping.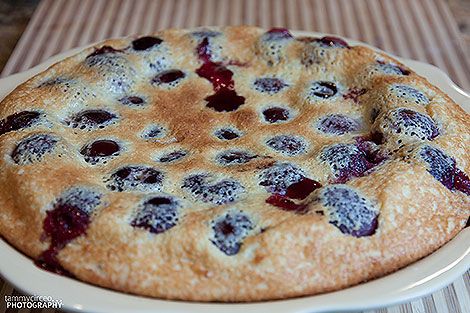 I like to use my tiny tea strainer to sprinkle the powdered sugar ...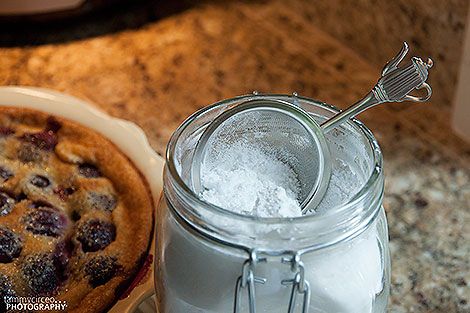 But no matter how pretty I try to make that first piece, it usually ends up a mess.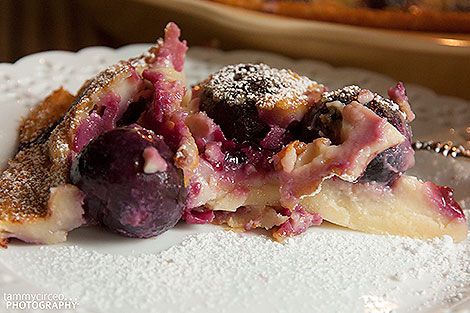 I would describe the texture of the clafoutis as being a cross between a Dutch baby pancake and a thick crepe. It's not really custard. Nor cake. It's just ... clafoutis.
And those cooked cherries, still holding their shape, sweet, juicy ... Oh my.
As for getting rid of the pits? I suppose you could put a small bowl on the table for people to dispose of them in, but is really that hard to just scoot it out of your mouth onto your fork or spoon and put it on the side of your plate? I think not. If the French can do it, I think I will allow it at my table, too.
Bon Appétit!
(If you're new around here or are wondering what French Fridays with Dorie is ... It's an effort to use one of Dorie's recipes from her cookbook Around My French Table each week. The recipes are decided on by popular vote on the website French Fridays with Dorie. Purchase your book HERE and play along! According to the rules of the group, I'm not allowed to post the actual recipe ... mes regrets.)