The weekend was spent at Lake Chelan with wonderfully generous friends who invited us to share their vacation home.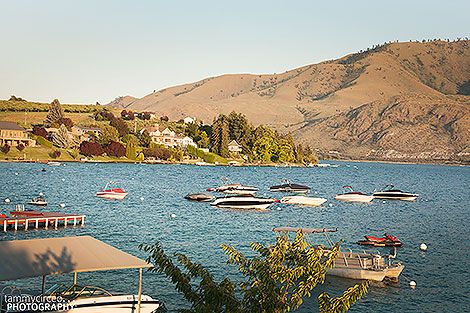 From the looks of our long sleeves in the following photo, you might think it was cold while we were there, but this was taken in the evening when the sun was behind the hills and the cool breezes were coming off the lake. It is always wonderful to sit outside in the cool of the night after the heat of the day.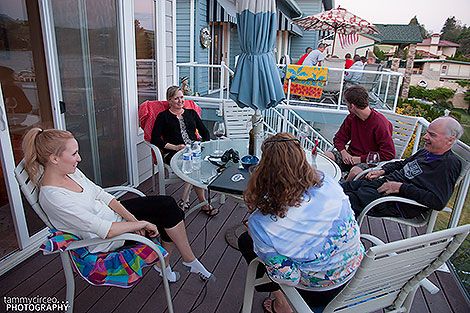 We visited Blueberry Hills for a late breakfast on Saturday morning. All of their breakfasts are HUGE (minimum 3 eggs + potatoes + meat + toast/biscuits) and I knew I couldn't eat that much so I ordered a BLT sandwich with a salad. Yes, for breakfast. Granted it was almost lunch time by the time I consumed it so I feel justified. The salad even had blueberries on it!
We spent time on the boat Saturday afternoon with Oreo as our guide and protector.
I used sunscreen, but should've used more as I am now a beautiful shade of dark pink.
We boated up to The Wall and Aly had the adventurous spirit and courage to climb up and jump off. She has way more nerve than me ... sadly, hydrophobia cripples me.
We got to the house and followed both of our sons' baseballs games ... one in WA State and one in NY State. Their son is a pitcher and wasn't pitching that day. Ben's game started out slow and not so great, but he ended up with 2 triples, 1 single, 2 stolen bases, and 5 runs and was named Player of the Day for the New York Collegiate Baseball League. That can make a mama proud, I tell ya!
Saturday ended with pizza from Local Myth and a fireworks show (photo taken with my phone).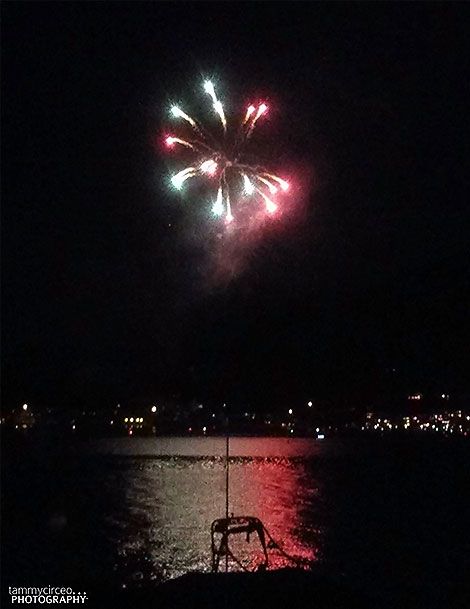 We always enjoy our time at the lake with our friends, but of course, we love coming home. We left the lake early to avoid the holiday traffic coming back east and came home to Kyle and Emily. They had been here while we were gone to watch over our aging Goldie. So we had a leisurely afternoon culminating with a meal on the patio decorated by Aly with wildflowers and glassybabys.
It sounds like an enchanted life, huh? I wouldn't argue much ... I'm so blessed.
Here's to a new week filled with ... well ... I'm not quite sure what it will be filled with! Stick around and find out with me. ;)

Chelan on Dwellable