Do you know what potato pancakes are? When I was growing up with four brothers, there wasn't often tons of mashed potatoes left over, but when Mom made enough for there to be extras, she would mix them with an egg or two, some flour, onion, salt, and pepper, and fry them in a little oil in the skillet till they got crispy and browned. We called them Potato Pancakes and I almost loved them more than I loved mashed potatoes ... always wished that my brothers wouldn't eat all the mashed potatoes Mom made to accompany the roast beef or fried chicken. We would eat them with gravy or ketchup depending on what else Mom had made for dinner.
I came across this recipe for zucchini fritters in this month's Bon Appetit. Man, I love that magazine! The recipe is the same as Mom's was for mashed potatoes, but of course, you'll use fresh zucchini rather than leftover mashed potatoes, making them just a bit more healthful. The rice vinegar/soy sauce dressing is a lovely, health-conscious, updated accompaniment. 
With the way zucchini resembles bunnies in the reproduction department, I think you'll be grateful to add this to your repertoire this summer! (You might even freeze some grated zucchini to use in this recipe through the fall and winter.)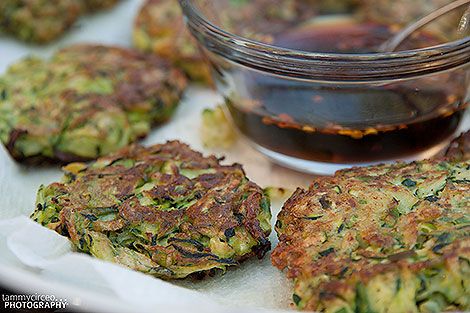 Bon Appétit!