Here's a confession for you ... I honestly haven't felt like cooking recently. There are recipes I want to make, but when it's hot outside, I'd rather be fed than to cook in my non-air-conditioned kitchen. Today, the humidity decided to join the party so my hair and I were not happy campers. It's not to say that I haven't been cooking because the bottom line is that we must eat and the inhabitants of my home depend on my culinary skill. However, I've been most pleased with the foods that take minimal preparation ... and edamames fill the bill.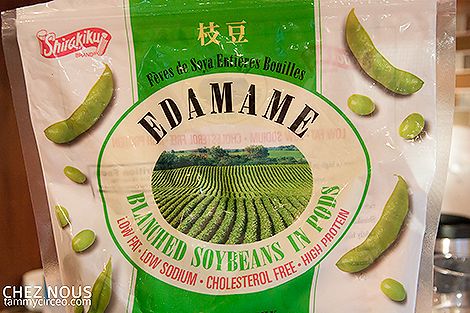 Have you ever had these? Edamame (pronounced "eat a mommy" ... hee hee) are soybean pods and before you dismiss them, you must stop in your tracks and promise me to try something new. They are fresh, not mushy and almost slighty crunchy, and so good for you ... low-fat, no cholesterol, high protein. What more do you want!?
I don't know if you can buy them in a chain grocery store elsewhere than the Pacific Northwest because this is where I learned to eat them. I'm pretty sure you can find them where ever you are, though ... Trader Joe's is pretty much a sure bet. Buy them frozen (preferably in a bag with three languages on it), boil some salted water, pour them in, and 5 minutes later, you have food for your belly.
They can be a snack or an accompaniment to a meal (like chicken teriyaki), but no matter when you eat them, the way to do it is to put the outer curved side to your mouth and squeeze the beans out into your mouth with your fingers and discard the pod.
That's what I'm talkin' about!