I showed you this photo recently in a Le Weekend post and later realized that I haven't shared the recipe. Having the ingredients on hand for this wonderful hot dip is advisable and not hard to do since everything - except maybe the marinated artichokes - is a kitchen staple. The ingredients are freshly grated Parmesan cheese, sour cream, mayonnaise and hot sauce...and artichokes, of course. It can be baked in any oven-proof baking dish, but in my opinion, it takes on a special charm by being baked in a 6-inch cast-iron skillet.
This dip is a party food, not a diet one. So if you are watching calories, hold yourself to just a bite rather than indulge in half of the pan as you'll be tempted to do.
I like to serve it with a crusty baguette, but crackers and tortilla chips are excellent, too. Make it something crunchy to counter the creaminess.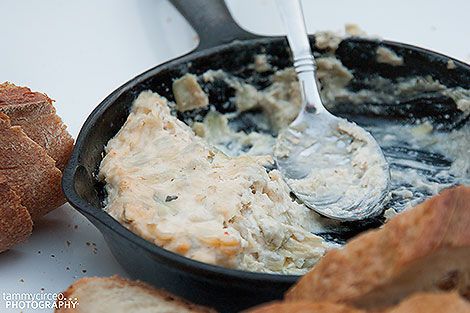 Bon Appétit!