Making jams, jellies, and preserves is one my favorite things to do with all the fresh fruit that summer brings our way. Their jewel colors all lined up on my counter makes me happy! However, knowing to label them has always been a chore. It's either a Sharpie on the lid or writing on the labels provided with the jars. I have so many jars now that I don't usually have to buy them so I find myself without the provided labels and with a motivation to make a prettier label anyway.
So I sat myself down at the computer and made these cute ones. They are right about 2.5 inches round which makes them very slightly smaller than the flat lids for the small-mouthed jars. I didn't want to buy another circle punch since I already have a 2.5 inch size. I printed the "Raspberry" labels on plain paper to see what it would look like, but because I know that once the jar is opened, keeping that piece of paper on there will be an aggravation, I decided to print the others on a sheet of adhesive (Avery 8165).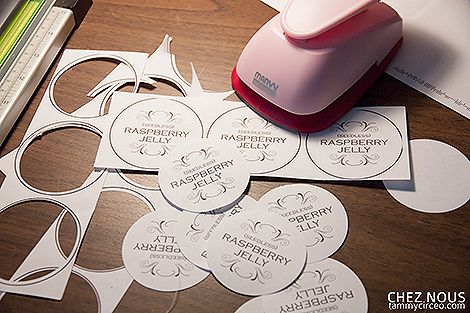 Punching out of the adhesive sheet is much easier, too, since it is thicker. I then pressed the circles to the lids and put the rings back on. Instant pretty.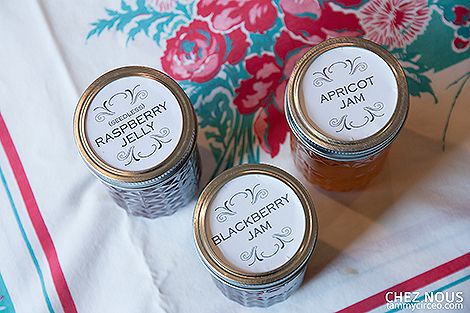 After the jars are opened, I fully expect the label to get soiled, but since I don't re-use the flat lids for canning, I don't feel a huge loss.
The following links are 8.5x11 size .PDF files for apricot, blackberry, plum, seedless raspberry, and strawberry. Leave a comment if you would like a certain label made and I will add it to this list. (I think I should add Apple Butter, right?!)
Happy Jamming! 
Download 2013-JellyLabels-AppleButter
Download 2013-JellyLabels-Apricots
Download 2013-JellyLabels-Blackberry
Download 2013-JellyLabels-FigJam

Download 2013-JellyLabels-Plum
Download 2013-JellyLabels-Raspberry