After 90 degree temperatures this week in the PNW, it hardly feels like fall or apple weather. And it certainly doesn't feel right to have the oven on in these temperatures ... in a house with no AC. However, watching the neighborhood kids go off to catch the school bus, seeing the fall decorations going up in the stores, and seeing ads for pumpkin farms has me itching to feel a nip in the air and hungry for cozy recipes.
I came across this recipe the other day on Food 52 and it is appropriately named Heavenly Apple Cake. That, my friends, would be the culinary understatement of the year. This cake is a beautiful combination of rustic charm and divine elegance that begins with soaking chopped dates in Calvados (or other apple brandy).
The rustic part is the batter ... simply flour, sugar, baking soda, cinnamon, nutmeg, apples, eggs, butter, and the dates. That's it. No electric mixer needed, either.
It is a stiff batter and it takes a bit of effort to get all the flour incorporated.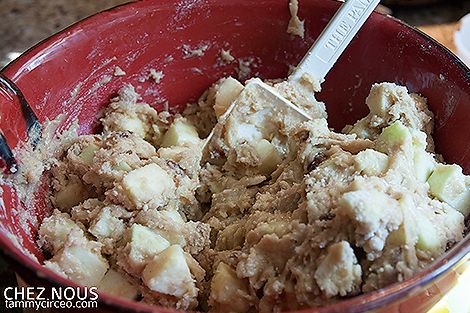 One taste of the cake, however, and you'll rest assured that any and all effort put into this simple cake was worth it.
You can download the recipe from Food 52 or you can download it right here ...