While I was celebrating being alive over the weekend, our world lost someone who contributed so much to our American knowledge of cooking Italian food. Marcella Hazan, cookbook author and chef, was to Italian food as Julia Child was to French, referred to by Lidia Bastianich as the "mother of Italian cooking in America". And, in fact, neither began cooking until after marriage and later in life.
She and I share this sentiment: The explanation is that I consider cooking to be an act of love. I do enjoy the craft of cooking, of course, otherwise I would not have done so much of it, but that is a very small part of the pleasure it brings me. What I love is to cook for someone. To put a freshly made meal on the table, even if it is something very plain and simple as long as it tastes good and is not a ready-to-eat something bought at the store, is a sincere expression of affection, it is an act of binding intimacy directed at whoever has a welcome place in your heart. And while other passions in your life may at some point begin to bank their fires, the shared happiness of good homemade food can last as long as we do. —Marcella Hazan
When I learned that she was gone, I decided to make her famous 3-ingredient tomato sauce for dinner as my own small show of appreciation for what she did to bring part of my own and my husband's heritages to America.
You can use fresh tomatoes or canned ... I use canned Italian tomatoes. Seems appropriate, right? The other two ingredients are a bit of butter and an onion cut in half. Let it simmer for about 45 minutes, spoon it over pasta, and top it with parmiggiano.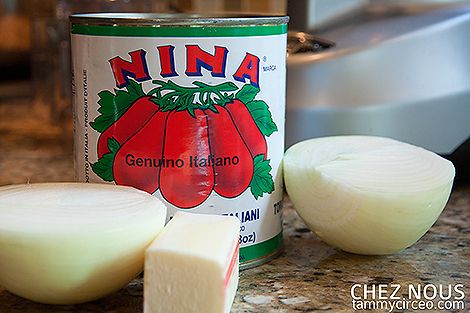 I grilled some hot Italian (chicken) sausages to accompany the pasta, but the irony of making this was that despite our shared sentiment and my love of cooking for others, I ended up eating alone because of everyone's evening obligations! There's no worries that it will be eaten, though ... there's plenty of hungry people around here at all hours of the day.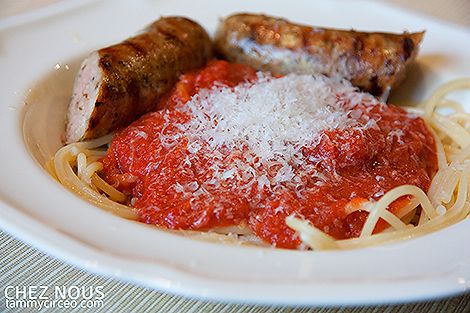 Bon Appétit!