Have you ever felt like your blessings have no chance of ending? Or maybe you've felt stuffed from eating too much wonderful food but you didn't care because it was all so delicious ... therefore, worth it. Or maybe that any pain you were enduring was OK because you knew it would all come out alright in the end?
That was my weekend.
My birthday was on Friday and I felt like Noah might have felt about the flood trying to stop the deluge of gifts. I really don't NEED anything and yet, my friends and family found ways to bless me beyond measure ... flowers, lunch, massage, new chef's knife, dinner, rain boots ... among other things!
The "pain" was that our Ben couldn't be here. I had no expectation that he would come because I know the schedule he keeps at school between classes and practices.
Ken always makes sure to treat us to a beautiful dinner for my birthday. This year, we settled on Palisade. What a wonderful location ... Elliott Bay Marina across from the Seattle skyline. I was seated facing the skyline, a seat I will never refuse. The clouds entertained me all evening. They were ever changing, reflecting both rain and the sunset.
A few minutes after we were seated, I felt a hand on my right shoulder and heard a familiar voice saying, "I hear this is a pretty good restaurant." ... I looked to my right, saw my son's hand (but it didn't quite register), looked up to see a shirt I knew he owned (still didn't register), then saw his eyes and smile ... I was so surprised and couldn't stop the happy tears or the hugging ... I think I might have caused a "stir" among the guests. I didn't care.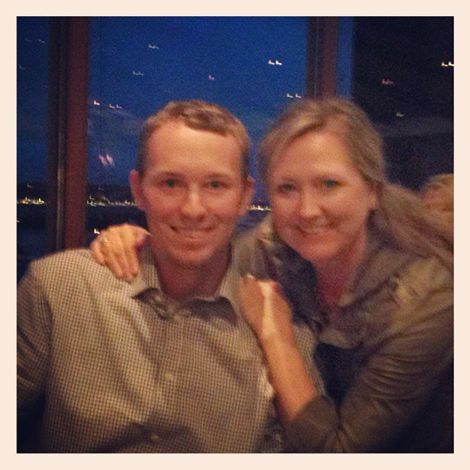 My birthday is always wonderful. Ken sees to that. But we were all blessed that our Ben had the weekend off of practices and thought, "Oh ... I could make Mom's birthday dinner!"
I've been suprised before and this one will rank in my memory as one of the best, especially since the girls were just as surprised as I was! Thanks, B-boy, for making that trip after 2 papers, multiple tests, and two super late nights of studying prior to driving seven hours to be here to celebrate with me. It was wonderful to share that meal with the whole family!
And on Sunday afternoon ... I did something I've never done before. I went on a photo walk with a group of like-minded photographers. I'll tell you all about it in another post, OK?
Here's to another week full of blessings and unforeseen happenings.