Because of all the gorgeous pastries in the windows of the patisseries in France, we often think that every dessert is decadently rich with loads of butter, cream, and inevitably chocolate. More often than not, however, in most homes, dessert is simply fruit. Don't you think it is sweet enough by nature to qualify as dessert? Jacques Pepin does and this recipe comes from his book Fast Food My Way in which he gives multiple recipes for eating well on the fly every day of the week. Fast food in a drive through?! No need when you have great, quick recipes and the desire to eat good food.
You might not eat dessert every night ... I certainly don't! But if you find yourself in the need for something sweet, you can always turn to fruit.
In this case, the dessert is pears ... lovely Bosc pears that need no help to make them taste good ...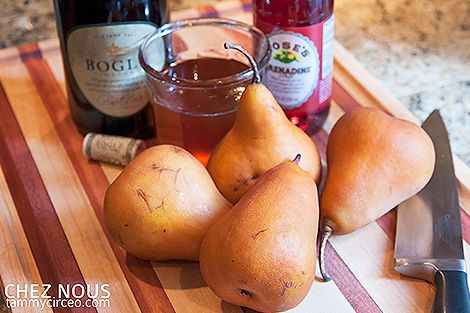 ... but are enhanced by the unlikely trio of red wine (a Rhone style - Pinot Noir is a good option), grenadine (a sort of cherry-flavored syrup —remember when the kids ordered Shirley Temples?), and honey.
Peel, quarter, and core the pears and put them in the mixture ...
Let them cook till they are only just tender. If your pears are ripe, it might only take 10 minutes, but if they are still rather hard, it could take 30 minutes. Keep an eye on them and when they pierce easily with a knife, turn the heat off and let them come to room temperature. Cook the liquid down to a syrup consistency to serve as a drizzle of yumminess.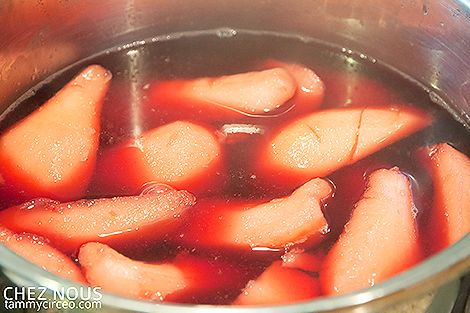 Of course they can be eaten on their own, or on Greek yogurt (oh man ... I JUST thought of that! and I think it might be a great breakfast!) ... Anyway I was saying ... wouldn't it be just a bit more special to serve them with ice cream? If you're feeling super special, you might accompany the dessert with a little butter cookie. However, ice cream and cookies are only additions to an otherwise lovely end to a meal ... pears simmered in honeyed wine.
Bon Appétit!