Life seems almost normal this week. Normal schedules (whatever that means ... since they change every week), normal meals (again, sort of), and normal sleeping hours (again ... what's normal?!)
OK ... I guess I have to admit that "normal" is not attainable and "abnormal" is "normal".
Now that that is out of the way, I'll be content with posting a timely French Fridays with Dorie for the first time a a few weeks. :)
A Caramel Toasted Almond Tart ... this week's offering was not what I wanted simply because I didn't want sugar. So I cut a piece for my daughter, she offered me a bite that I accepted. One taste of it made me say, "Hmm ... my dad would say, 'I think a coffee would go so good with that!'" ... and I proceeded to pull of shot of espresso to accompany a thin slice of my own.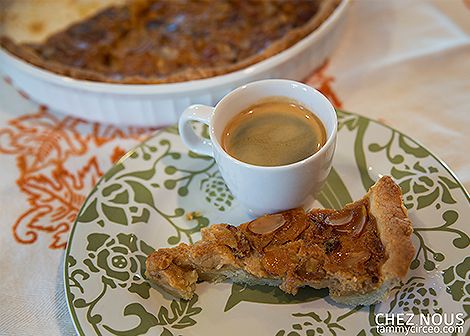 This tart is so creamy, rich in caramelly nut taste, and seriously worth consuming.
(If you're new around here or are wondering what French Fridays with Dorie is ... It's an effort to use one of Dorie's recipes from her cookbook Around My French Table each week. The recipes are decided on by popular vote on the website French Fridays with Dorie. Purchase your book HERE and play along! According to the rules of the group, I'm not allowed to post the actual recipe ... mes regrets.)