Two or three years ago, Aly and I started out an afternoon in downtown Seattle with a lunch at Cafe Campagne. I've told you about it before and if you don't try it when you come to visit, you'll certainly be missing out on one of the best little finds in our city. If I could eat there every day, I would feel right at home.
As we ate, a couple with a small baby was seated next to us and because the tables are as close to each other as they are in any French restaurant, we soon found ourselves making faces at the baby and engaged in conversation with the couple. They told us they were visiting Seattle for their anniversary and their plan was to eat their way through the city. Good plan. The baby got a little squirmy just as their food arrived ... of course! ... so I offered to hold him so they could enjoy their food without dripping it across the baby or without having to take turns holding him. They seemed grateful and I found out his full name ... which is nothing short of really awesome, but I won't share it in a public forum for fear of losing my baby-holding status with Gabriel's baby. ;)
A little more conversation revealed that he was a chef and that she did a variety of jobs in a restaurant they owned in Portland. I mentioned that my friends live in Portland and maybe we'll come to his restaurant when we visit. He encouraged the visit and said we could have one of the prime tables. I told my friends about it and she said, "You had lunch with Gabriel Rucker?! We love his restaurant!!"
Well ... I didn't know I had "had lunch" with Gabriel Rucker nor did I know why she was so excited about it. Come to find out, since his restaurant's opening in 2006, he has received quite a lot of awards. Food & Wine Magazine named him one of the country's Best New Chefs in 2007. For four consecutive years beginning in 2008 he was nominated for The James Beard Foundation's Rising Star Chef award, alongside a handful of the nation's most talented chefs under the age of 30. In 2012, he received the Chef of the Year award in Portland Monthly Magazine. In 2013, his first year of nomination in the Best Chef regional category, Gabriel returned home with the James Beard Best Chef Northwest Award. He has been featured in the Wall Street Journal, the New York Times, Food & Wine, Bizarre Foods, and StarChefs as a Rising Star.
Apparently, Chef Gabriel Rucker is kind of a big deal.
When we were recently in Portland, we made plans with our friends to eat at Le Pigeon although we couldn't get reservations. We were told that at 8:30 on a Sunday evening, we should be able to get in and sit at the bar that provides an up-close view of the kitchen. However, when we arrived just before 8:30, we were told there would be a two and a half hour wait. On a Sunday evening. 11 PM dinner, anyone? I'm not opposed, but I was rather hungry! Besides that, we were told that Gabriel was on a book tour in NYC for his recent collaborative cookbook.
We decided to dine at Nostrana where Gabriel Rucker once worked under the excellent tutelage of another multiple James Beard award winner, Chef Cathy Whims. Who was also out of town. In Italy. :/
Our friends insisted on the necessity of ordering the Insalata Nostrana so I complied.
I've only ever heard of radicchio being used as an "additive" to a salad and most people push the leaves to the side because of the bitterness, but this salad is ALL radicchio. You read that right. ALL.
Don't be fooled by the small size of a Verona radicchio either ... they yield quite a lot of leaves!
Chef Cathy Whims recommends soaking the leaves for 2 hours in ice cold water. I presume this is to reduce the bitterness because this salad is not bitter at all.
The croutons are homemade. I do it on the stove. She does it in the oven.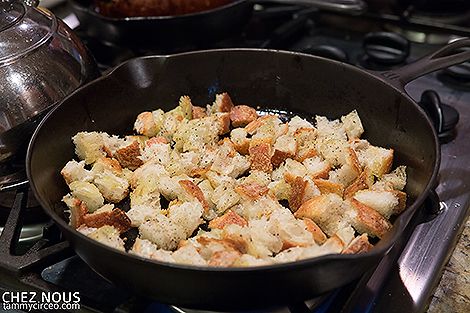 The salad dressing is also homemade ... a classic Caesar.
You might recognize the photos as coming from my own kitchen, right? And you would be right about that ... because I had the courage to ask the waitress if there was any way they could tell me how to make the salad and I could just jot it down. She one-upped me and said, "Oh no, I have a copy I'll just bring to you."
Score!
And I've made it three times since then. I agree with Nostrana and Cathy Whims ... it's too good not to share.