Here's another quick, hands-off recipe for your busy preparation time leading up to Thanksgiving. I've shared a few tomato sauces with you before and really didn't need to try another one, but the simplicity of this one combined with the similarities to Thomas Keller's roasted one and Marcella Hazan's tomato sauce intrigued me. And did not disappoint.
Everything —only FIVE ingredients— goes into a roasting pan ...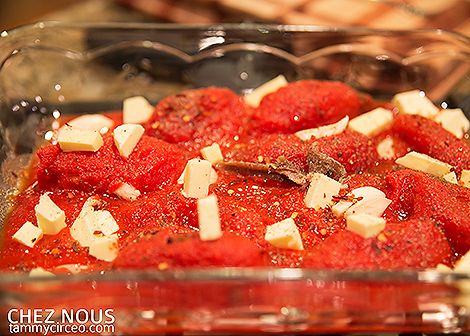 ... and is cooked at 425°F for 35-40 minutes until it gets thick and yummy.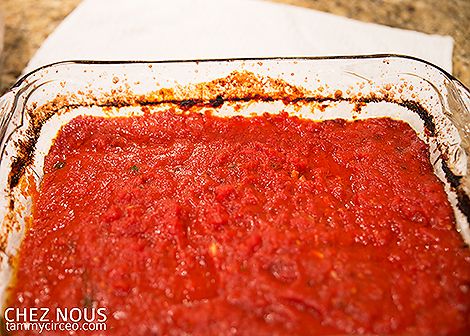 And that's it. Top it with Parmesan and you're good to go. If you feel the need for some protein, grill some chicken or Italian sausages.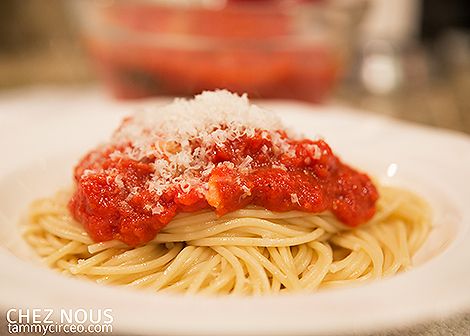 The flavor is roasted sweetness, but it also has a bit of kick from red pepper flakes. The best thing is you can make this a few days ahead which is what it makes it wonderful for the holidays or when expecting dinner guests. Do it up ahead of time and keep the rush of needing to feed lots of people to a minimum. Make this this weekend and one of your weeknight dinners will be ready and waiting for you and your holiday crowd. I suggest doubling the recipe ... and if you're so lucky as to have leftovers, use it as the sauce for pizzas!
Bon Appétit!