I can't tell you how pleased I am that Dorie included this recipe in her French cookbook. My pleasure is only selfish ... I love salmon on bagels with cream cheese, capers, and red onions. The only reason I find that she included it in a "French" book is that she says it is a standard at their New Year's Eve dinner and I have to believe that whether she is in Paris or New York, gravlax is a fabulous addition to that dinner.
Gravlax is traditionally Scandinavian ... the countries of Norway, Sweden, and Denmark are specialists in gravlax as I understand it. In the most basic terms, it is a cold-cured salmon ... Pickled and cured using salt, sugar, and spices. Peppercorns and coriander seeds are toasted, then crushed in a mortar and pestle, and combined with salt and sugar.
The spice mixture is then rubbed into both the skin and flesh sides of the fish and topped with copious amounts of dill.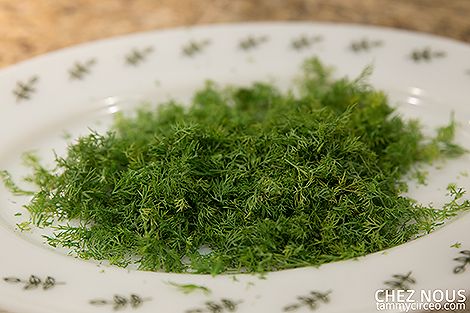 Layer on plastic wrap and put a weight on top ... I wished for a brick, but all I could conjure up was cans of garbanzo beans and tomatoes.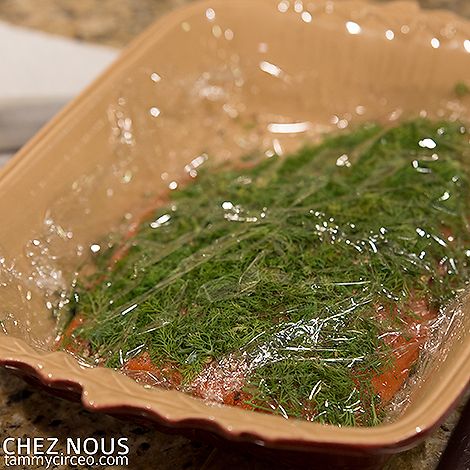 Unlike smoking, which dries and shrinks the fish, this pickling process allows the fish to stay moist and full-bodied. In fact, when you take it out of the fridge after 72 hours, you'll wonder if it's actually safe to eat because it looks like a beautiful fresh fish. However, the texture has changed and that's how you'll know it is ready to be put on toasts. I am so glad I tried this recipe ... I know I'll be repeating it.
The dilled mustard sauce was equally as beautiful. I had planned to serve these as part of our Christmas Eve Feast-of-the-7-Fishes-at-which-we-might-have-7-fishes-or-not, but I wasn't sure it was ready. And that worked out great because on Christmas afternoon when we all needed a bit of sustenance and were waiting on the prime rib to get done, it was the perfect snack! A bit of protein, a bit of pickling, a bit of bread ... Sublime. I didn't even put them on a platter ... we ate them right off of the cutting board.
I currently have homemade bagels rising overnight to be boiled and baked in the morning and served with cream cheese, red onion, capers and of course, the gravlax. By the time you read this, I'll have consumed a breakfast worthy of kings. Don't hate me.
(If you're new around here or are wondering what French Fridays with Dorie is ... It's an effort to use one of Dorie's recipes from her cookbook Around My French Table each week. The recipes are decided on by popular vote on the website French Fridays with Dorie. Purchase your book HERE and play along! According to the rules of the group, I'm not allowed to post the actual recipe ... mes regrets. However, you can find this week's recipe HERE.)