Amid the bustle of shopping (online shopping is so bustling), the baking (of which only this recipe has been baked), the Christmas card addressing, the conversations around the dinner table that lead into games of Yahtzee, Monopoly, and Trivial Pursuit being played till the wee hours ... amid all of life happening, I've let this post languish in the "Drafts" section way too long. I think it is high time to share it with you.
Until you try it, you probably won't believe me when I say that this fruitcake is unlike any you've had. Many people have an aversion to fruitcake and I would say that there's a good reason for it. I can't tolerate the highly colored candied fruit in most fruit cakes and there's never enough nuts, right! This fruitcake recipe is the one my maternal grandmother made and she did use a few candied fruits, but when my mom started baking it, she eliminated those and added as many real, dried fruits as she could think of ... figs, dates, raisins ... and my own addition this year is dried cranberries. It would be no crime to add dried blueberries, apricots, cherries, etc ... Just be sure to use a very large mixing bowl like this old Italian one that I picked up at the thrift store.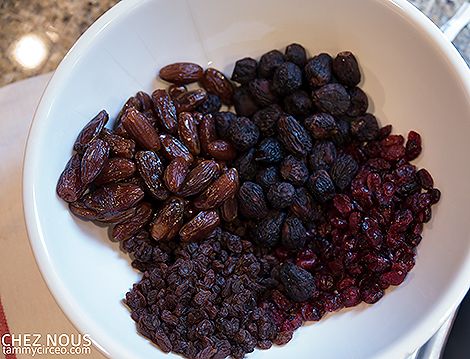 Mom usually buys chopped dried fruits, but I didn't know that and left mine whole. The taste is not affected in the least, but you might prefer the smaller pieces. Coat the fruit with flour to keep it from sinking to the bottom of your cake.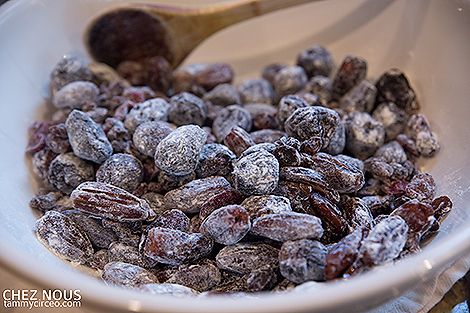 And then the nuts ... almonds, walnuts, and lots of pecans! Pecans are our favorite, but if you prefer a different one, load up on that one.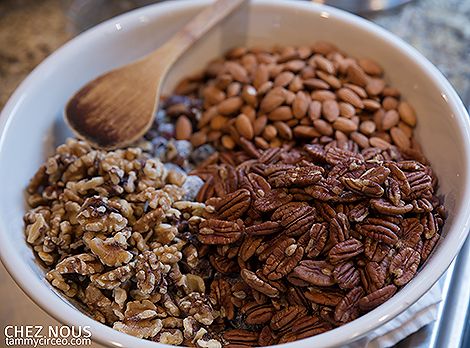 Freshly grated nutmeg makes a difference, in my opinion, but use preground if you'd like.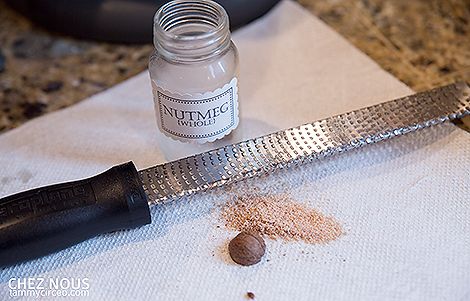 The cake batter is a brown batter laced with wonderfully cozy spices like cinnamon, nutmeg, cloves, allspice ...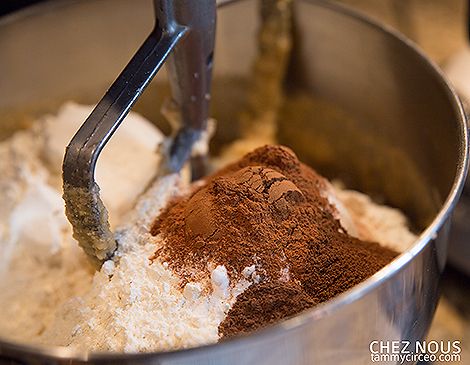 It gets it's moisture from butter, eggs, and applesauce. Be sure to buy unsweetened applesauce if you are not making your own.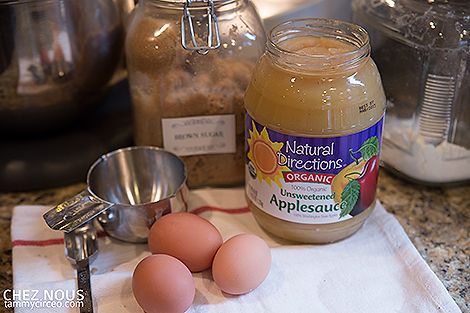 And when it's time for the tremendous task of stirring all those fruits and nuts into the batter, you gotta remember to take it slow. Just put a little batter in, stir to incorporate it as well as possible, then add a little more batter and do the same. Repeat this process till it is all stirred together.
It makes a tremendous amount of cake ... six loaves or two angel-food pans full.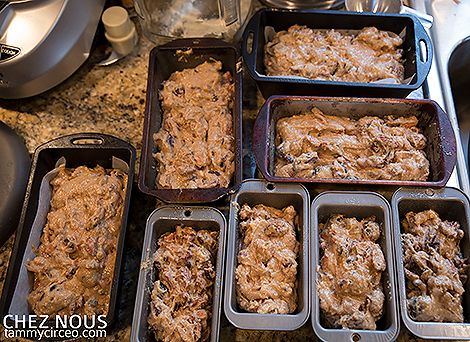 But no matter how much you have, it won't go to waste because it keeps for ever and a long time. Just wrap it well, keep it in a cool spot, and it will take you easily through the season if not beyond. You can freeze it, too, and eat it in July if you'd like! One of my most fond memories in college is getting a package from Mom with a loaf of fruitcake in it. If it can stay fresh in a trans-Atlantic shipment, you know it will last a while. In fact, it gets better with time because the spices and fruits have time to meld through the cake and it becomes more moist with age.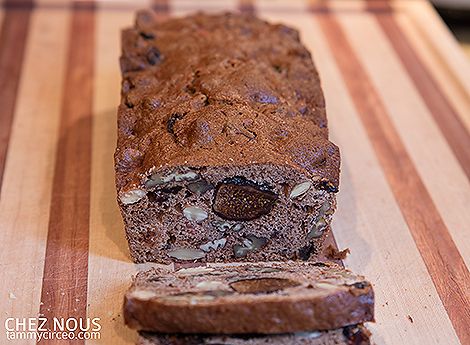 I made my cakes according to Mom's instructions this year ... the first time ever that I've made them myself. I have some ideas for switching it up a little next year so I'm making notes and we'll revisit then, OK?
In the meantime, here's Mama's Fruitcake recipe:  Download MomsFruitCake