The first Christmas that I was writing my blog, I was ambitious and did a 12 Cookies of Christmas series. I made a batch of cookies each day for 12 days. I thought that was a lot of work until Emily and I decided to make Christmas cookies this past weekend ... 13 batches in 2 days. Do the math and feel free to call us crazy. 
We may be crazy, but we have plenty of cookies to share with neighbors and of course, to leave out for Santa tonight. 
Before our kids knew about this fabulous Make-Believe Game we play each Christmas season, they would prepare the Santa plate and we'd all confer on where the best spot was to put it to be sure that Santa would find it. When the first one learned that it was, in fact, a game, she played along for the sake of the younger two siblings and was given the honor of eating the cookies! 
So this year ... Which cookies would Santa like? Jammers? Angelettis? Chocolate Crinkles? Pecan Sandies? Thumbprints? Swedish Wedding Cookies? Chocolate Toffee Cookies? Sugar Cookies? Molasses Cookies?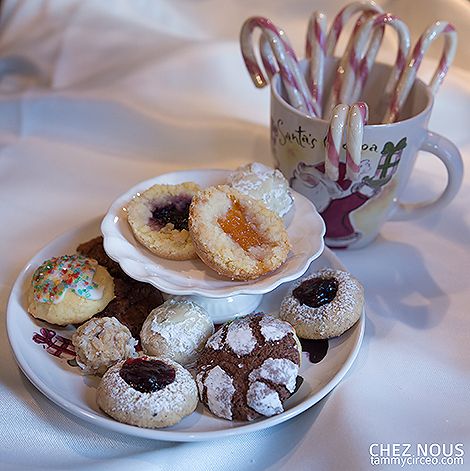 He might just like a bit of them all!
Download Swedish Wedding Cookies
Chocolate Toffee Cookies Do NOT make a half batch of these. I did and two days later, they are all gone. DO allow the dough to chill thoroughly as it is rather runny. Scoop onto the cookie sheet with spoons rather than a cookie scoop because the chilled dough is too stiff. Alternatively, chill fully, then painstakingly roll into logs, and slice cookies to bake as the urge hits. 
Download Lemon Sugar Cookies (Not shown)
Download Crackle Top Molasses Cookies (Not shown)
We also made Chocolate Strawberry Thumbprints, have Baci de Dama in the freezer to make, Cranberry Lemon Bars, and Sugar and Spice Pecans (which I thought I had posted, but can't find it on my own blog ... I'll hook you up soon). 
Merry Christmas!