My mother-in-law taught me how to make cream puffs and they've been a family favorite for many years. The Paris-Brest pastry is the same dough as cream puffs (pate a choux) piped in a circle to represent a bicycle tire since the pastry was created to commemorate a bicycle race from Paris to Brest. Why NOT commemorate a race with a pastry, I say?
I decided to make small bicycle tires because we certainly don't need to eat much of such a rich pastry and I thought I could freeze the extra. I didn't have a pastry tip quite large enough so I decided to form the circles using a couple of spoons and I put them in small tart pans to bake.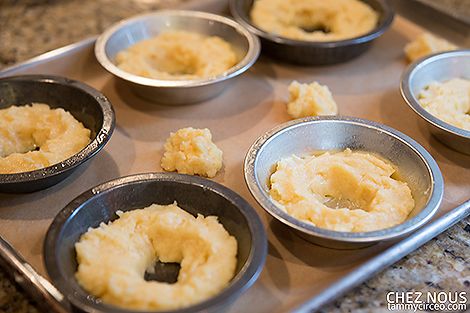 In hindsight, I don't think the pans were necessary and I wish I hadn't used them, but it really didn't affect the exquisite taste.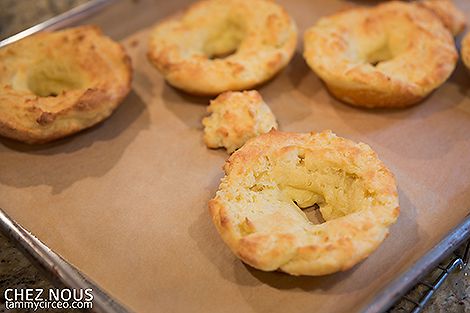 The pastry cream is thick and I considered lightening it up with whipped cream like my mother-in-law does, but by the time I served dessert, I didn't feel like whipping it. I'm glad I didn't because it was wonderful as it was. I forgot the caramelized almonds and instead of dusting with powdered sugar, I made a homemade chocolate sauce  to drizzle on it.
To die for, I tell you.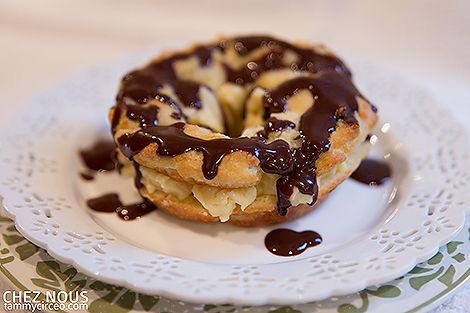 (If you're new around here or are wondering what French Fridays with Dorie is ... It's an effort to use one of Dorie's recipes from her cookbook Around My French Table each week. The recipes are decided on by popular vote on the website French Fridays with Dorie. Purchase your book HERE and play along! According to the rules of the group, I'm not allowed to post the actual recipe ... mes regrets.)