Last week was a busy one and I'm feeling just a bit rushed in life these days. It seems there's so much to do and not much can be cut from the schedule. But I'm working on that because I need to refresh!
Twenty-five years. Say that out loud ... T-W-E-N-T-Y F-I-V-E years .... It doesn't matter what context you put those years into, it's still a long time.
Ken and I have known each other more than two-thirds of our lives ... and can't imagine life without the other in it.
So our 25th dawned on the 14th. The fact that our Big Day fell on a Tuesday and a workday simply meant life went on a usual  ... with a few more than usual texts through the day! We had made our dinner reservations were for the next evening so we had a mini celebration complete with red roses ...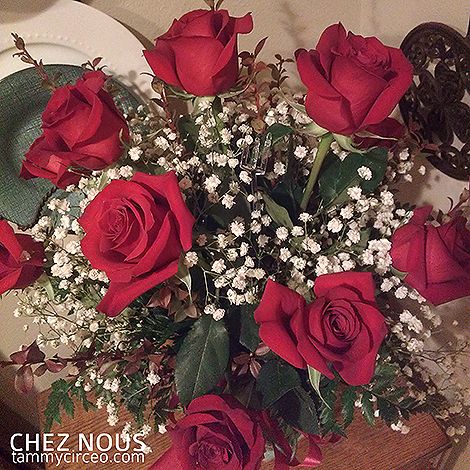 We made spaghetti and meatballs for dinner and Ken sprung for cannolis from our local pizza place that makes the most exquisite ones. 
The next evening, we had reservations at an iconic Seattle restaurant, Canlis. We got all dressed up and enjoyed a beautiful dinner overlooking Lake Union. This is the type of place where they put the napkin in your lap for you, there's a constant parade of silverware, and the server uses a straight blade to clear the crumbs. So elegant yet comfortable.
Emily left flowers for us at the restaurant and made me promise not to take any photos at dinner, but I coudn't resist this one of our dessert with candles and chocolate wishes ... créme brulée with a pear ice cream quenelle.
Our server, Amanda, was wonderful and after our dinner, she offered a tour of the restaurant. She explained the significance of the Japanese door hanging in the entry, showed us the private dining rooms, the kitchens, the old photos in the back hallway, the etched wine glasses that belong to "regulars", the grill kitchen that is covered from top to bottom with copper and was one of the first kitchens in the US to have been visible from the dining room ... And then she took us to one of the three wine cellars. This photo only shows about a fourth of the space ...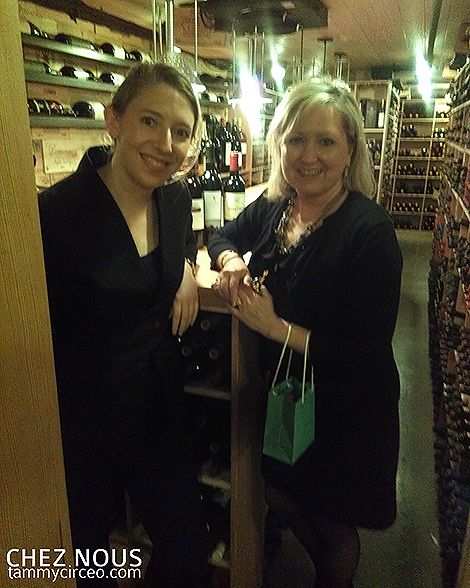 Amanda mentioned that working at Canlis is a unique experience because daily she is witness to many special celebrations and parts of people's lives. She understood my fascination with the way food ties us together and helps us write our stories.
Our celebration was beautiful and one we won't soon forget. Here's to 25 years ... now we're going for the gold!