The cardboard boxes that Christmas presents arrived in were still piled in the dining room as were four mostly empty rolls of wrapping paper. My office floor was hardly visible, laundry needed to be done, and the furniture was in desperate need of dusting.
As I dusted furniture, I noticed that the tablescape in front of the picture window in our bedroom was looking a bit sad. The little Christmas tree and other decorations have been packed up leaving a straggly little collection on the antique card table that I got for $40 at a garage sale in Utah. The owner told me they had picked it up at an army post. It swivels around and opens up into a square with a space underneath to keep cards and dice. It's really cool.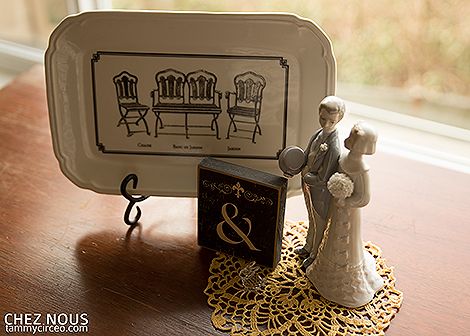 I moved some things, brought in others, and the table was refreshed. I wanted to buy Ken a new wedding band for an anniversary gift since his sometimes cuts into his hand when he's working or playing sports, but all he wanted was a print of the photo that Aly snapped of us when we were in Victoria. I had bought the frame and painted it for a front door project during the holidays, but never made the project. I think the photo looks great in it. And just in case he wants a print for his office, I had two made. ;)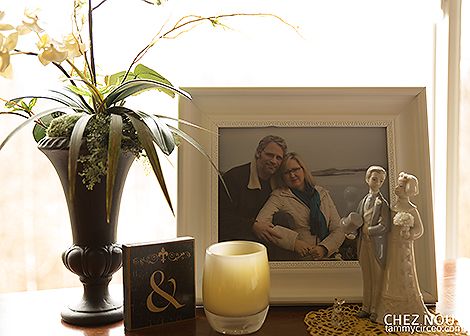 This bride and groom is a piece of Lladro that was given to my mom as a gift when we lived in Spain. She let us use it as the topper on our wedding cake and gave it to us later as an anniversary gift. My Mama Trudy crocheted the doily.
This little Swarovski bunny was given to me as a high school graduation gift ... well, the one that was given to me lost an ear and Ken found this one as a replacement. I think it brings a bit of whimsy to this romantic scene.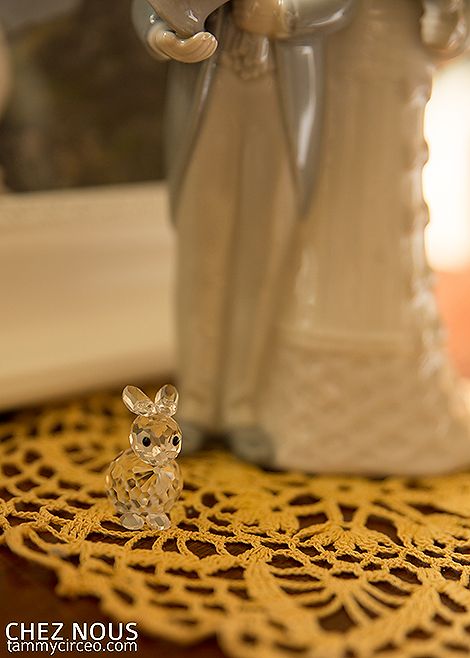 I love ampersands and of course, I love glassybabys.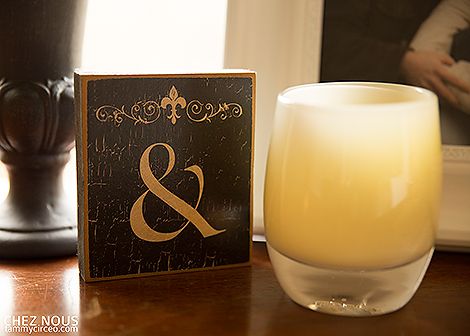 I don't usually like too many photos in my bedroom, but this tablescape makes me happy and refreshed. Sometimes, it only takes a small adjustment.