To say that I'm not a big fan of oatmeal would be an understatement. When I was growing up, it's the one breakfast that I remember Mom making more than anything else and I had a hard time choking down what I considered the slimiest breakfast ever. In my young opinion, it was better than eggs, though, and I would put plenty of brown sugar or honey on it to increase its palatability.
If you've been around the blog for very long, you might remember that I'm not really a big fan of breakfast in general. Cupping my hands around a warm cup o' joe while I do my morning reading is more appealing to me that getting all industrious making a meal first thing in the morning.
However, I do know how important that first meal of the day is and one of my goals this year is to make more of a priority of eating it. I'm happy to say that I'm doing pretty good so far and this recipe is one reason.
Yes, it's oatmeal. Who AM I? Just a figment of my former self, apparently.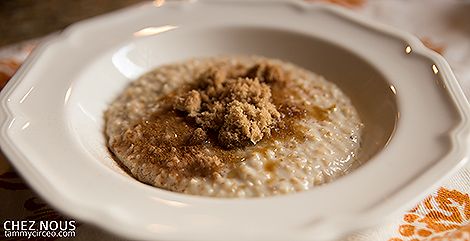 I came across this recipe on Molly Wizenberg's blog, Orangette. I first "met" Molly through her book A Homemade Life and then recognized her in Bon Appetit Magazine when she unlocked the secrets of Pomodoro al Forno from Cafe Lago. I adore her and trust her culinary expertise so I had to give this oatmeal recipe a try. How could toasting the oats in a little butter before cooking them in slightly sweetened milk be a bad thing?
Well ... it's not a bad thing at all. In fact, this is now my oatmeal of choice. Thank you, Molly, for sharing.