These are the little nuggets of sweet perfection that I wanted to share with you in time for Valentine's Day last week and now this week has almost passed before I've found the minutes to make it happen. On this lazy Saturday, I'm neglecting to clean out the garage, vacuum my floors, and make my bed just so I can make good on my word to you! Besides it's much cozier to sit wrapped in my feather duvet throw watching a light snow come down, and talk about sweet things, right? 
Not only did I almost not get these shared with you, but they almost didn't get made. We (Emily and I) made the dough in our bustle of Christmas baking and literally forgot the lovely concoction was rolled into logs in the freezer. We had plenty of cookies baked anyway so when I discovered the frozen logs, I decided to wait till Valentine's Day to bake them. Their name lends to that holiday anyway, right?
The dough is a butter dough ... butter, flour, a little salt, and sugar ... and roasted hazelnuts. That's it. It's a little difficult to roll into the thin logs, but if you keep pressing it together, it will work. The logs don't have to be frozen, but if they are, let them thaw a bit before cutting them into slices because you want to make tiny balls the size of marbles and frozen dough does not roll into marbles very easily.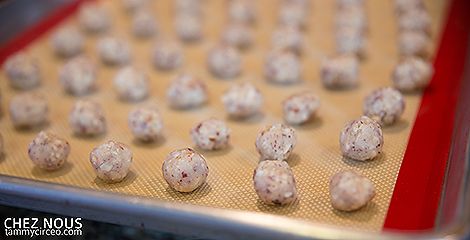 After they've baked and cooled, melt some good dark chocolate in a double boiler. I used a Belgian chocolate and made my own double boiler by setting a heat-proof bowl in the top of a small pot of simmering water. Don't let the water touch the bottom of the bowl. You can also melt the chocolate in the microwave, but the double boiler keeps it warm and smooth while you are filling the cookies. 
Just a small dollop of chocolate is all you need ... 
They taste like "Nutella poppers" and they look like sweet round puckers of kisses. Am I right?!
Bon Appétit!