When I was growing up, my southern mama often made Chicken and Dumplings. Her method was to cook down a whole chicken in a pot of salted water, making a broth, then shred apart the chicken and add it back in. The dumplings are like a biscuit dough, rolled out rather thin, cut into one- to two-inch pieces, and dropped in the chicken broth to cook. The broth thickens a little from the flour in the dumplings and it's served in a bowl. It really is comfort food on a cold winter's night!
Fast forward a few years ... to now. When the February issue of Bon Appétit arrived with a photo of a "new" Chicken and Dumplings, I knew I wanted to try it. It is similar enough, but also different enough to intrigue me. 
The first difference was the use of bacon. Oh yeah ... intrigued. Bacon makes everything better.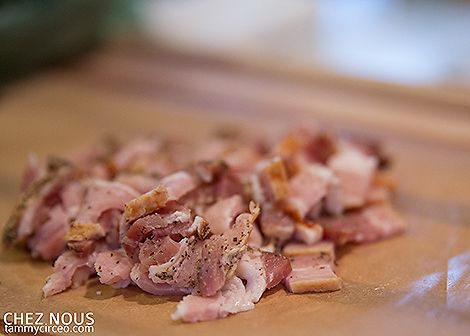 The second difference is that the chicken is in pieces, then dredged in seasoned flour and carefully browned on the skin side. I found that this adds a deeper color and flavor.
The third difference is the use of whole mushrooms ... again, intrigued! I love mushrooms. They are sautéed in the same pot as the chicken and set aside. The onion and garlic are added to the pot and the pot is deglazed with a small bit of white wine. And then, everything except the mushrooms goes in the pot ... the bacon, chicken, broth, thyme, bay leaves ... and cooked for 2 to 2 1/2 hours until the meat is falling off the bones. 
The recipe in the magazine suggests bringing a pot of salted water to a boil to cook the dumplings in, but I can't for the life of me figure out why I wouldn't cook them in that lovely broth that has been simmering for so long. So I changed the game plan and plopped my dumplings right in there.
Oh man ... yep, I was intrigued and in Chicken and Dumpling Heaven. It's not the "white" dish that I can remember at Mama's table, but I can say is that it was all beautiful and delicious ... and will be made again in my kitchen.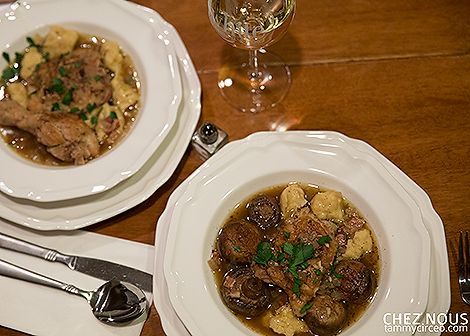 If you want a recipe close to what my mom used to make, you can find it on Scott's blog. He's a friend from college and I love this story of "dumplings as soft as his Grandma". If you want the original recipe for the "new" Chicken and Dumplings from Bon Appétit, you can find it HERE. And if you want my very similar adaptation to Bon Appétit's, you can find it here: Download Chicken and Dumplings with Mushrooms
Bon Appétit!