This week is all about crêpes. And to set it straight once and for all, that "e" is pronounced like the "e" in "eggs" and does not rhyme with "crates".
My German mother-in-law makes the same thing and calls them German pancakes. My friend of Swedish heritage calls them Swedish pancakes. And I've heard that the Icelanders make something similar. Perhaps they call them Icelander cakes? No doubt there are plenty of variations of this simple food across many cultures and although I can't give all the credit to the French for our enjoyment of it, I will certainly assert that this delectable batter that gets cooked in a stovetop pan is certainly worth sharing with the nations. Truth is, the origination is probably Chinese.
Between my mom, my mother-in-law, and me, there have been thousands of crêpes (German pancakes) made in our kitchens. It used to be a Sunday evening tradition with my mother-in-law and not one that we reluctantly espoused. They were filled with granulated sugar, powdered sugar (my favorite), peanut butter and whatever (my father-in-law's creations), and jellies and jams. A great use of leftover chicken is to immerse it in a bechamel sauce, use that mixture to fill crepes, lay them in a baking dish, top them with Gruyere cheese and bake them. I call them Enchiladas á la Française.  
 Crêpe batter is very simple. It's sugar, eggs, milk, flour, and a bit of oil and I add some vanilla extract. Leave it to Dorie to add rum and Grand Marnier. Never in my born days have I ever put liqueur in crepe batter. It's not needed, but heck, why not?! Dorie's a genius.  ... that is a flavor profile that I can get behind. 
This last Sunday, Emily needed to come do some laundry to prepare for their trip to England where her husband is working for a few weeks. I figured they'd be here through dinner so I made Boeuf Bourguignon and decided to make the French Friday's recipe, too, since it was a dessert. I don't eat much dessert so I wanted to share it. I got the batter prepared (sans the blender that Dorie suggested ... just give me a whisk), but then realized that I threw out all of my non-stick pans because I'm done with Teflon. I've never made crepes in anything than non-stick so I wasn't sure what I would do. 
My heart kicked in about that time and reminded me that not only do I love cast iron, but that I have my grandmother's skillet that is at least 75 years old and perfectly seasoned. It was worth a try. I put in some oil, wiped most of it out, and proceeded ... 
... with immense success! Not a one of them stuck. Towards the middle to end of the batch, I used the cloth that I had originally wiped the oil out with to slightly recoat the pan, but was so happy to find that Mama Trudy came through for me again!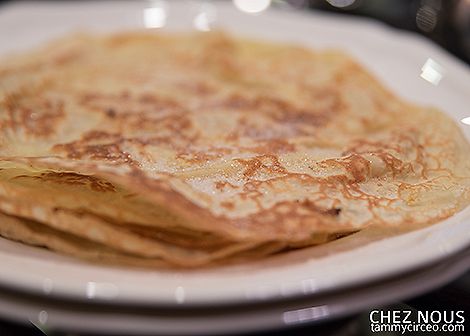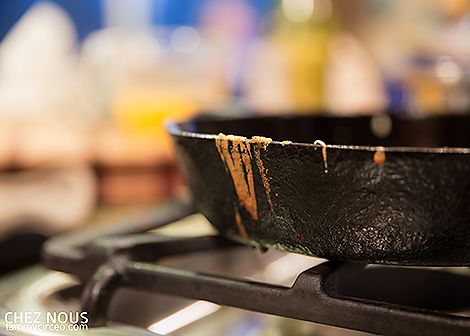 In Dorie's cookbook, she names this recipe "Butter and Rum Crêpes, fancy and plain". I couldn't quite figure out what the "fancy" part of it was until I read the commentary and recipe five or six times. I read fast and miss much of the important stuff—including ingredients—much of the time. The "fancy" refers to filling them with Lemon Curd and the "plain" to just topping them with the Citrus Butter Sauce. You know me ... the Lemon Curd had to happen. And that's because I've had Dorie's Lemon Curd before. It's awesome. 
But I forgot that I was making the recipe in half as I'm tending to do with most recipes recently. We only have one child living with us who is almost never here for meals. We are thought of as "empty nesters" which means I should be cooking smaller portions, but after years of cooking for a whole family, including an athlete, and many of their friends, I'm having a hard time preparing smaller portions. I think I put the full amount of sugar in, but the half of everything else. It was a little rich on that account. 
Who can resist a crêpe, though ... fancy OR plain? Rich or right? All I can say is that there was not a crêpe left over ... so it must have been good.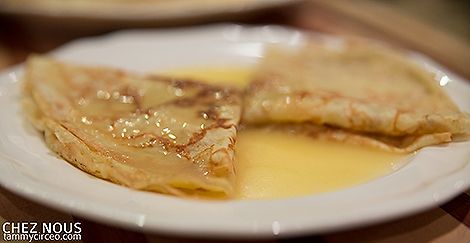 (If you're new around here or are wondering what French Fridays with Dorie is ... It's an effort to use one of Dorie's recipes from her cookbook Around My French Table each week. The recipes are decided on by popular vote on the website French Fridays with Dorie. Purchase your book HERE and play along! According to the rules of the group, I'm not allowed to post the actual recipe ... mes regrets.)