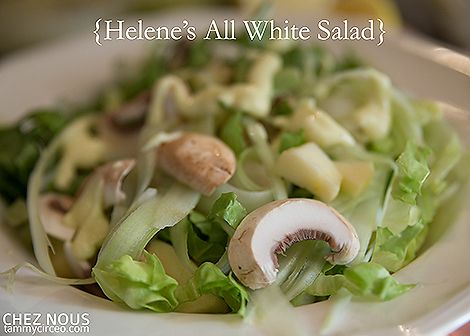 When I first read the ingredient list for this salad: celery ribbons (made by first removing the strings from the stalk with a vegetable peeler, then continuing to shave the stalk with the peeler) ...
... apples ... (a Fuji rather than the recommended Granny Smith) ...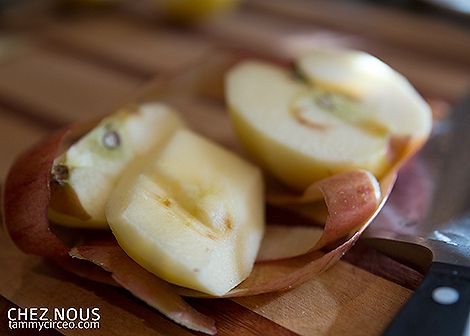 ... sliced white mushrooms and Napa cabbage. I didn't have the cabbage so I used what I had on hand, escarole and green leaf lettuce, which made the salad more green than white ...
The vinaigrette, a yogurt-based one, is something I have never had. To make it, an egg yolk is whisked with a little yogurt, then some olive oil is drizzled in all the while whisking. Lemon juice joins the fun and the rest of the olive oil is whisked in before the remainder of the yogurt is added and it is seasoned with simple salt and pepper. It comes off as creamy, almost mayonnaise like, but much lighter and tasty.
The bottom line is that an "almost" all white salad made with what might be deemed as bland ingredients turned out to be rather tasty. I thought it needed a seed or nut to add an earthiness to the freshness of the greens and apples and the spongy texture of the mushroom. When I slowed down enough to read Dorie's recipe fully, I realized that Dorie suggested a sprinkling of sesame seeds. Ah....yes.
While I continue to not read recipes from start to finish, I still found this one worth repeating. I think the vinaigrette saved the day ... just might have to use it in a myriad of applications.
(If you're new around here or are wondering what French Fridays with Dorie is ... It's an effort to use one of Dorie's recipes from her cookbook Around My French Table each week. The recipes are decided on by popular vote on the website French Fridays with Dorie. Purchase your book HERE and play along! According to the rules of the group, I'm not allowed to post the actual recipe ... mes regrets.